Call Center Resume Sample
Catherine L. Harris

Address:            1569 Lawrenceville, Atlanta, GA
Phone:                (404) 569-8745
Email:                  [email protected]
Current job:      Call Center Agent, VTGS Inc, Atlanta, GA
---
Objective
Highly skilled, customer-centric and well-experienced call center agent with great communication, organization skills, enthusiastic and positive approach to work seeks to establish a career with a company desirous of building a solid team of agents to manage inbound and outbound campaigns.
---
Skills
10 years experience as Call Center Agent

College Degree; BA English

Certified; MS Office

Certified; Level 4 Spanish

Excellent communication skills

Great analytical skills

Highly patient

Great people skills

Pleasing personality

Excellent disposition

Goal – oriented

Highly organized

Punctual
---
Work Experience
Call Center Agent; 2020 to Present
VTGS Inc., Atlanta, GA
Duties and Responsibilities
As an Outbound Agent contacts consumers and businesses as identified by the numbers in a leads list;

Offers products and services of retail clients;

Conducts phone-based surveys for healthcare clients;

Procures subscriber information to update company records;

Assists in provisioning services for telecommunication clients;

Works to consistently meet all established goals and metrics;
As an Inbound Agent, receives calls from subscribers of clients' services;

Provides customer support services for retail subscribers;

Provides technical support services for cable subscribers;

Provides client support services for airline/ hospitality subscribers;

Manages the list of contacts that are distributed by a predictive dialer;

Uploads status of calls in the Customer Relationship Management or CRM database;

Prepares status reports as required by Performance Analyst.
Call Center Agent, 2017-2020
Contact Center Client Solutions, Inc, Atlanta, GA.
Duties and Responsibilities
As an Outbound Agent, provided calling services for telecommunications client;

Offered products for mobile and landline subscriptions;

Procured relevant client information for verification purposes;

Assisted in having subscriptions provisioned;

Uploads and updates all information in the CRM;

As an Inbound Agent; provided support services for a cable company

Provides solutions on cable connectivity problems

Schedules technical repairs for subscribers

Issues trouble tickets for subscribers

E-mails trouble tickets to technical support

Prepares required status reports
Call Center Agent, 2015-2017
Pinnacle Contact Solutions, Inc., Atlanta, GA.
Duties and Responsibilities
As an Outbound Agent, conducted surveys for diabetics healthcare company;

Collected information on current diabetics health care package;

Assisted in provisioning clients;

Conducted appointment setting services for an insurance company;

Managed B2B contacts list

Contacted business numbers as provided by predictive dialer;

Set 3 appointments every week for insurance client;

As an Inbound Agent conducted moderation services from an entertainment company;

Reviewed and managed messages posted by subscribers on websites;

Worked to meet metrics on accuracy and performance;

Received calls from subscribers on the status of their account;

Uploaded records unto the CRM;

Prepares required status reports.
---
Education
James Dickey University
Bachelor Degree, English
Atlanta, GA
2011 to 2015; 3.6 GPA
Mays High School
High School Diploma
Atlanta, GA
2007 to 2011, 3.8 GPA
---
Courses
Certification; MS Office

Certification; Level 4 Spanish
---
What to Write in a Call Center Resume Objective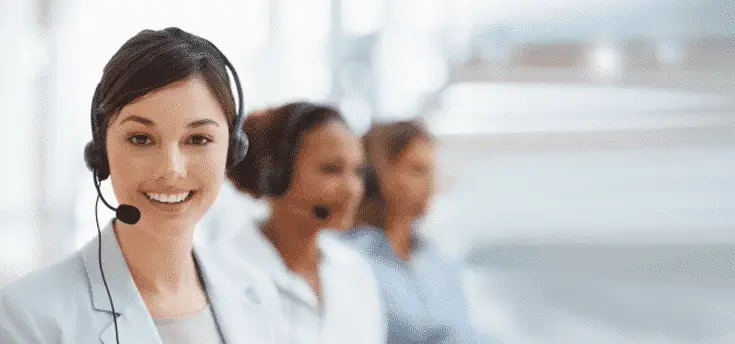 Resume objective you should highlight your attitude toward the job. Ideal Call Center agents are those who have a great, positive disposition and confidence in what they can do. Skills and talent are of course important. But attitude is the key quality companies need in their agents.
What to Write in a Call Center Resume Skills Section
A Call Center Agent job looks easy and simple until you've tried it. If you're an Outbound Agent, you have to practice scripts and spiels until it sounds natural. You have to know how to respond to questions, objections and give rebuttals without coming across as hard sell or arrogant. You have to know the products and services you are offering like the back of your hand.
If you are an agent who takes down information, you have to be accurate because these are covered by call recording. If you make a mistake and go off from the procedure, your company could be in trouble with the regulating agencies.
Here are the qualities you should have in your Call Center resume skills section:
Educational Attainment

A college degree in a related course will set you up for vertical movement inside the company. But there are agents who finished only up to high school. If so, you have to provide the company your GED score.
Certifications

Even if you are doing Outbound and receiving Inbound calls, you have to be proficient in handling spreadsheets, word files, and CRM programs. There are companies that ask the agents to update the records in the database.
Great communication skills

You should be able to establish a rapport with customers and get them to be more at ease or comfortable on the line.
Great people skills

Inevitably, you will come across irate customers. You have to maintain your composure and have the ability to re-direct the negative energy of the customer into a positive direction.
Ability to comprehend materials

You will be going over product and services information before you go live. You should be able to present these products and services over the phone naturally without sounding rehearsed or as if you are reading from a script.
Ability to organize

Many agents go through hundreds of numbers every day. You should be able to keep track of the status of your calls and upload them on the CRM or tracking sheet.
Ability to follow instruction

Outbound calling is highly regulated. One mistake can land the company in hot water.
Meticulous and detail oriented

All information must be complete as this is important for clients to validate customer orders.
Ability to manage stressful situations

If the Call Center agent breaks down the client could lose valuable sales.
Driven to meet quotas and targets

Companies sign up with call centers to help them achieve sales quotas.
Driven to meet or surpass prescribed metrics

Agents are a graded month and quarterly usually by a Performance Analyst via the Quarterly or Annual Business Review.
Ability to work with a team

Although you are calling your own call list if needed and if authorized, you should step in and help other less experienced agents.
Punctual

You should never be late for your shift. Time is money for clients.
Flexible schedule

There are times you would have to work the graveyard shift (2 am to 6 am) if time zone differentials exist.
Customer-driven

If you are in customer support, you should endeavor to find a resolution to problems 24 hours upon issuance of the trouble ticket.
The job of a Call Center agent is very challenging. You will be interacting with different people every day. You have to be able to follow scripts, procedures and find resolutions to different issues.
What to Write and Not to Write in the Call Center Resume Experience Section
Companies want Call Center agents who are experienced in various industries. The reason is it takes an agent weeks or months to become comfortable with the products or services he or she is offering. It doesn't matter how many years tenured the agent is, there is a Learning Curve to respect when it comes to new products and services.
Companies are looking for agents that have managed accounts in different industries because it saves them time and money. Within a week, the experienced agent can go live and offer the products and services.
The leads list given to agents is as good as cash. These are considered valuable assets that can be converted to cash if the agent is good. Companies do not like agents burning through leads or recycling them too much.
In your Call Center resume experience, you should go into detail on the accounts or campaigns that you handled. Include the scope of work and the type of industries the campaigns were in. Your experience should appear that you are proficient in your job as the agent.
You do not have to include experiences which are not relevant to Call Center agent work as these will only serve as distractions.
We are confident that if you follow the format and structure of our Call Center resume sample, you will be noticed right away by the company. Before finalizing your application, read our sections on objectives, skills, and experience so you will have an idea on how to frame your resume.
We are sorry that this post was not useful for you!
Let us improve this post!
Tell us how we can improve this post?