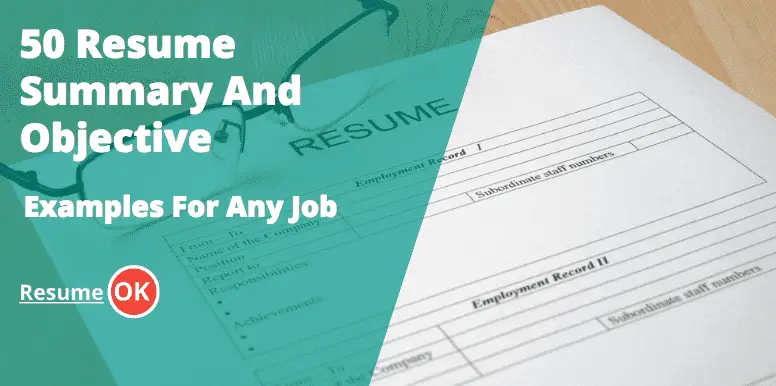 Resume Objectives and Summary Examples – 50 Ideas
If you are in the process of writing your resume, start with creating a good objective and career summary. In this article, we have prepared more than 50 resume objectives and summaries for some of the most popular job positions, and you can use them for free for inspiration.
Write a resume summary or career objective to capture the attention of the hiring managers. The resume summary statement can be used to show why you are seeking a position at the company where you are applying. Before you start writing the resume summary, review the job description, and using your professional experience and the samples provided in this article, start creating your career statement.
What Is A Resume Summary?
A resume summary is a short statement which highlights key points in your qualifications. Recruiters only scan the content of a resume so having a summary becomes crucial in getting their attention right away. This part of the resume is used to explain why you are seeking an opportunity at the company that's hiring, weather for a full time or seeking an entry level position. 
Essentially, the summary answers the question, "Why should your company hire me?" A well crafted summary can help build your brand with prospective employers. Think of the resume summary as your marketing strategies, which you can use to highlight your extensive experience and show your career goal.
It should go without saying that a summary should be kept short but concise. However, many job seekers get carried away with the details that the summary ends up becoming extensive. It's all about highlighting the key points; the features in your qualifications that are relevant to the position available.
What Is A Resume Objective?
A resume objective is a statement or summary of your goals for employment. For recruiters, the resume objective gives them the impression that the applicant clearly knows what he or she want in a job.
The problem with most applicants is that they craft the resume objective with an inward perspective. The objectives are written from the standpoint of "what the company can do for me". This approach is very presumptuous and will put off many recruiters.
A better approach would be to write the resume objective from the vantage point of "what I can do for the company." It would be best to conduct research on the prospective employer and draw up a list of objectives that are aligned with theirs.
Generally, the more specific your objectives the greater the chances of being considered by the recruiter.
Here are three tips when making your resume objectives:
Identify the position your want at the start
Identify the skill sets and abilities you have that will interest the recruiter
Keep it short
Resume Summary Or Resume Objective? Which One Is For Me?
The resume summary and resume objective serve the purpose of saving you valuable time. Recruiters will appreciate having short statements or bullet points to validate their interest on what you have to offer.
The more important question should be: Which section is more important for me; resume summary or resume objective?
A good rule of thumb to consider is to focus on the resume objective if you fall under any of these categories:
First- time job applicant; about to enter the job market.
You've been unemployed for some time and have decided to re- enter the job market.
You've decided to shift gears and change careers; you want to attract interest.
The summary and objective effectively communicates your value to the employer and delivers this in the fastest time possible.
Resume Objective Examples
Here are 25 different objective examples you can use for your resume. Look at the job position that's closest to yours.
Sales Representative
Sales position where I can highlight my skills in communicating with people, align their needs with the products and services and challenge myself in helping the company exceed its monthly targets.
Content Writer
Head Writing position so I can share my thoughts, ideas and world views with readers; engage freely with those who were compelled to action by my content and thereby further enhance the visibility of the publication.
Payroll Administration
Payroll Officer position where my strengths in maintaining attention to detail, meticulous review of work and adherence to quality control measures will ensure efficient administration of payroll to the company's employees.
Digital Marketing Manager
Lead Digital Marketing Manager position where I can share my expertise in campaign management; introduce creative new ways to optimize online marketing tools and help clients achieve unprecedented growth in sales.
Computer Graphics Artist
3D Animator position so I can showcase my talent and creativity in developing highly imaginative, thought provoking characters and share my passion for the arts which taken collective will produce world- class animation for the company and its clients.
Administrative Assistant
Administration Officer position where I can contribute my skills in organization and experience in benefits management to further strengthen the foundation of the company.
Information Technology
IT Consultant position that will enable me to utilize my technical and fundamental competencies in computer programming, local area networking, website development and contribute more efficient operational frameworks for the company.
Human Resources
Human Resources Management position where I can contribute my expertise in behavioural management, organizational psychology and human relations and establish a highly productive work culture for the company.
Personal Trainer
Fitness Training Manager position that will enable me to introduce the latest cutting- edge training methodologies and systems and develop a team that would help the gym's many clients achieve their health and fitness goals.
Secretary
Executive Secretary position where I can help top management and key executives of the company have more productive schedules by managing and attending to non- essential tasks and activities.
Technical Analyst
Head of Equities Research position where I can provide my expertise and share advanced knowledge in different areas of technical trading and fundamentals and offer the many investors of the company sound strategies and trading recommendations.
Restaurant Management
Restaurant Manager position where I can use my background in culinary science, people management skills and capitalize on my empathetic nature to help the restaurant create the best dining experience for its customers.
Contact Centre Agent
Outbound Sales position which covers international markets so I can put to use my multilingual skills; I can speak Spanish and French, and help companies expand the scope of their products and services.
Market Researcher
Head of Research and Development position that will enable me to introduce newer and more efficient methodologies in research and systems to consistently update the information data base of the company.
Teacher
Teaching position in the high school level where my background in Behavioural Psychology and counselling will optimize the school's learning systems and methods of instruction for the benefit of students.
Healthcare Work
Healthcare Assistant for the Aged and Disabled that will enable me to fulfil my advocacy to help the elderly and disadvantaged in society live comfortable and functional lives.
Retail/ Sales Management
Retail Sales Manager position where I can use my skills in communication, salesmanship, people- management and ability to pinpoint what customers need to help the company achieve consistently high growth in sales.
Customer Service Representative
A position in Customer Service where my organizational and communication skills and natural ability to help people find resolution to pressing issues will contribute to the company's efforts to retain markets.
Transcription Services
Head Trans- Editor position; my primary objective is to manage a team of transcribers and maintain the highest level of accuracy and precision in transcribing audio files while consistently attaining the required Turn Around Time for the submission of all transcribed files.
Search Engine Optimization
SEO Professional for a digital marketing organization where my skills and expertise in optimization will push the company's website up the search rankings and all published content would be highly patronized by the target audience.
Check our SEO specialist resume example
Social Media Marketing
Social Media Marketer position so I can contribute to the company's efforts to generate awareness on its products and services as well as enhance their online presence through the medium of social media.
Check our social media marketing manager resume example
Business Analyst
Business Analyst position where I can highlight my abilities to conduct research, review, analyse and present sound recommendations and courses of action for the purpose of improving the company's current level of performance.
Front Desk
Receptionist position where I can contribute my skills in communication, organization and my empathetic nature can ensure clients a great experience in the establishment.
Check our front desk agent resume example
Business Development
Business Development Manager position where I believe my passion for growing business and unwavering resolve to face and overcome new challenges will immediately contribute to the success of the organization.
Project Manager
Project Manager position where my ability to manage people, organize tasks and ensure timely delivery of projects will guarantee the company achieves consistently profitable performance.
Resume Summary Examples
Below you'll find 25 different resume summary examples for some of the most popular jobs in US. If your job is different, simply use them as a template and change them according to your job position.
Digital Marketing Manager
10+ years experience as Digital Marketer. Managed many high- profile clients such as DELL, Yahoo, American Express, McDonald's as well as the campaigns of renowned politicians. 2 years experience as a web designer/ developer, 3 years experience as an SEO professional, spearheaded the award winning multi- media ad campaign for Coca Cola. Excellent skills in communication, writing and highly proficient in social media marketing.
Client Services Director
More than 15 years experience in the field of business development in various industries: finance, telecommunications, health care services and hotel and restaurant. Successfully managed large portfolios of key accounts for the purpose of building new networks and optimizing existing client base. Part of the pioneer team that built the ground-breaking 4G network of the ABG Company in ASEAN.
Customer Support Officer
Five years experience in the customer service industry. Managed customer support services for companies engaged in the following industries: insurance, finance, online retail, business consultancy and hotel and restaurant. Experienced with B2B and B2C customers and has worked with international clients. Multi-lingual and proficient in English, Spanish, Chinese and Italian.
Content Writer
Extensive 15 year experience creating engaging, relevant and unique content for many of today's most popular websites such as Huffington Post, Business Insider and Mashable. Cited as one of the most influential bloggers in "Business and Finance" in 2015 by YYZ Blogging Community. Holds a Doctorate in English from CDE University and has authored 15 e-books in various subjects.
Administrative Assistant
Executive Administrative Assistant with 10+ years experience working in various industries. Prominent clients include DELL, Coca Cola, United Health Group and many politicians particularly during campaign season.
Wonderful people skills; can extract productive results from the team. Great ability to manage pressure; maintains consistency in meeting deadlines. High level of proficiency in English; certified in MS Office with a Master's Degree in Public Administration.
Check an administrative assistant resume sample with additional objectives.
Sales Manager
Vast experience in the sales industry managing accounts in different fields of expertise: direct sales, pharmaceuticals, consumer products and telecommunications. For 10 years, managed sales distribution for the challenging provincial network of P&G consumer goods and services and achieved phenomenal 181% growth rate which was the turnaround for the department. 100% accuracy rating in meeting sales targets and objectives on a timely manner. Vibrant and naturally engaging personality who can easily bridge differences between client and consumer.
More objectives for Sales Managers
Market Researcher
More than 20 years experience in conducting market research for various industries including finance, research, marketing, business psychology, health and fitness. Has conducted seminars and symposia on a number of researched material and since 2017 has been the equities analyst representative for YYZ Stock Brokers. Dedicated, hard- working and committed to meeting all challenges in order to help clients uncover facts and general truths.
Accountant
Certified Public Accountant with over 20 years experience managing the books and financial records and rendering advice to some of the top 500 corporations. In 2015 successfully reduced overhead spending of XYZ Savings and Loans which was affected by the global collapse of the equities market. Has authored 10 books on finance and taxation. Meticulous and detail- oriented, firmly believes strategy follows numbers.
Check our Accountant Resume Sample
Portfolio Fund Manager
Licensed securities trader who worked as an equities trader for BMA and Associates for 10 years. From there, successfully transitioned to a career as a Portfolio Fund Manager for Citysec Global Investments.
For the past 10 years, his portfolio has been generating an annual yield of 9%; one of the highest performing in Citysec. Certified trainer for Elliott Wave Theory, Dow Theory and Fibonacci Ratios. Highly proficient in RSI, Stochastics and Moving Averages.
Personal Trainer
Certified by the most respected organizations in fitness training: ISSA, ACE and NSCA. More than 15 years experience training every day people to achieve their dreams.
More than 10 years experience coaching teams and individuals win their sporting event. Has written 10 e-books on different health and fitness topics such as sport psychology, diet programs and supplements. Passionate about living the health and fitness lifestyle
Check our personal trainer resume sample
Executive Chef
15+ years experience working as Executive Chef in many prestigious hotels and restaurants such as Hotel Du Louvre, Bistrot Victoires in Paris and Lindenhofkeller in Switzerland.
Apprenticed under Chef Joel Rubochon for five years. Studied in L' Academie de Cuisine. Specialty is Modern French Cuisine. Highly disciplined, meticulous and committed to creating the best food experience for customers.
Check our Executive Chef resume sample
Sales Representative
Five years working in the high- pressure world of sales and five years consistently delivering results for clients. Worked in insurance, consumer goods and supplements industries.
Managed many B2B and B2C clients including Coca Cola, Whole Foods and Del Rosario Insurance Brokers. Enjoys the challenge of exceeding targets and surpassing expectations. Great communication and organizational skills. Fluent in English, Spanish and Chinese.
Check our Sales Representative resume sample
Personal Secretary
More than 10 years experience working as a Personal Secretary for high level executives in various industries. Great organizational and communication skills.
Highly proficient and certified in MS Office. Ability to develop and manage CRM for different sales organizations. Five years experience in social media management.
Check our Legal Secretary resume sample
IT Manager
Cumulative 15 years working the field of IT. Designed and developed websites in a private capacity for many B2B and B2C clients.
Trained and certified in Python, Java and C+. Worked as Dialer Manager for Convergys and improved connect rate by 400%. Involved in creating training materials for contact center IT framework management. Innovative and solutions oriented.
Check our IT manager resume sample
Electrical Engineer
Worked in Dubai for 15 years as Chief Electrical Engineer including five years at Burj Khalifa. Previous engagement was with Emaar and Nakheel. Certified and licensed Electrical Engineer.
Graduated from Massachusetts Institute of Technology (MIT) in Cambridge. Practical thinker, solutions- oriented and dedicated to ensuring the safety of all structures and facilities.
Check our electrical engineer resume sample
Software Developer
10 years experience developing software applications for companies from various industries. These include fast food retail, logistics, transportation and health and fitness.
Certified in Java and C+. Team- oriented and understands the importance of the value chain in software development. Details oriented; conducts extensive research to deliver results and customer based solutions.
Check our software developer resume sample
Company Doctor
Worked for 10 years in the Emergency Room as Resident Doctor before specializing as a General Practitioner. Manages clinics situated in two general hospitals.
Apprenticed in Boston, Massachusetts and New York City. Great communication skills with remarkable ability to manage patient crisis situations. Establishes great working relationships with hospital staff.
Check our Physicians resume samples
Human Resources Manager
Managed the Human Resources department of Convergys for 10 years. Introduced the concept of Resource Process Outsourcing or RPO to address the high turnover rate and alarming employment disengagement level of Convergys. Succeeded in lowering turnover rate by 120% and decreased disengagement level to 15% which is below global market percentile of 70%. Bachelor's Degree in Human Resources from University of Michigan.
Check our human resources manager resume examples
Head Trainer
Worked as Head Trainer for Acquire360 a contact center facility which employs 1,500 agents, 300 supervisors and 150 Project Managers.
Created the training syllabus and course outline which has been regularly updated for the past 15 years of service. Manages a team of 120 lead trainers and assistant trainers. Graduated with a Degree in Psychology at Stanford University. People oriented and believed people are the core of every organization's success.
Content Writer
10 years experience as a Content Writer for many popular websites such as Huffington Post, Business Insider and Mashable.
Topics of expertise include business and finance, health and fitness and life hacks. Part of the pioneer team for tycoon.com which won Best Business and Finance Blog in 2015 in the prestigious Bloggys Award.
Graduate degree holder in English Literature. Background in SEO, keywords research and social media marketing.
Check our copywriter resume example
Website Designer
10 years as a professional web designer for ABC Web Design Services. Conceptualized, executed and oversaw the website design for YYZ Group of Companies which won 7 awards at the 2015 CSS Design Awards including Best Overall Design.
Background in C+, Python and Java Programming Languages. 5 years experience in SEO. Creative; likes to think outside the box, great ability to translate impressions into design.
Check our UX designer resume example
Company Psychologist
Background includes work as Clinical Psychologist for DEF General Hospital for 5 years plus 15+ years private practice specializing in Behavioral Therapy. For the past 5 years has been studying and implementing Behavioral Psychology in Corporate Organizations to address employment disengagement. Succeeded in improving employee productivity in LGU Manufacturing by 104% over a two – year period.
Personal Care Worker
Worked as Head Nurse for WYZ General Hospital for 10 years from 2015 to 2016. Transitioned to work for LED Personal Care Professionals as a Personal Care Worker for the elderly from 2013 to 2015. Patient, great ability to work with the elderly. Diligent, well- organized and efficient in overseeing the daily routine of patients.
Check our patient care resume example
Mining Engineer
15 years working as Petroleum Engineer at Woodside Petroleum including 10 years as Chief Petroleum Engineer. Previous experience includes 5 years as Petroleum Engineer in Gulf Mining at Dubai. Part of the pioneer group that jump started mineral- based businesses in Oman. Graduate in Extractive Metallurgy from Penn State University.
Check our mining resume example
Architect
For 10 years was the Lead Architect for ABi Architects. Assigned in Europe by the company from 2016 to 2016 to oversee its development projects in London, Scotland and Austria. Hired by IBI Group in Canada from 2013 to 2015 to supervise design and implementation of its projects in Sussex. Graduate Degree in Architecture from Cornell University.
Check our Architect resume example
Do you need more inspiration? On ResumeOK we have created resume examples for over 500 different job positions.