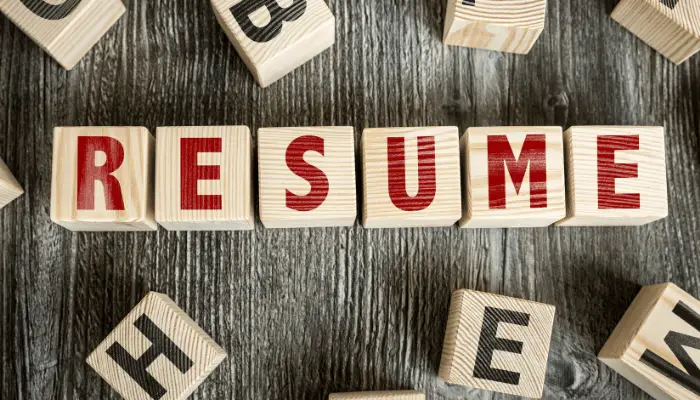 Action Verbs For Resume
Recruiters go through hundreds of resumes every day. While they only scan and not read them through, the job can be tiring and cumbersome if recruiters come across the same words and phrases all the time.
"Handle."
"Responsible."
"Led."
"Manage."
"Assist."
Seeing these verbs on a resume day in and day out makes work feel like Groundhog Day. Except this time, the recruiter has the power to alter the outcome by simply putting these cookie-cutter resumes in the filing cabinet never to see their shadows.
The right action verbs will easily differentiate you from the candidates who went with cliches in the set of eyes that matter the most – the recruiter's.
Why Your Resume Needs To Use The Right Action Verbs
Action verbs are primarily used to lead off job descriptions in the work experience section that summarize the tasks and functions you performed throughout your employment history.
But job descriptions aren't just about the job. They give you the opportunity to share your accomplishments and narrate episodes that exemplify your key hard and soft skills.
And verbs aren't just action words. They're power words. Properly chosen, the right verbs can transform a resume from drab to dynamic. They can create a clearer picture of who you are and what you've done in your career in the mind of the recruiter.
345 Best Action Verbs For Resume
If you've just broken into a sweat not knowing where to find the best action verbs to make your resume stand out, relax, because we've got you covered.
Rather than use the same old, tiresome verbs to lead off the job descriptions on your work experience section, stand out from the rest and choose from the 345 action verbs we've listed in this article to add more power and dynamism to your resume.
We've made the selection process easier for you by categorizing the best action verbs based on duties and responsibilities, accomplishments at work, and skills you wanted highlighted on your resume.
But we didn't stop there.
We took this article another step further by grouping the action verbs into industry. This way, you can simply go to the section that features your industry and choose from the action verbs listed under the group.
Duties and Responsibilities
Let's start out with what verbs are used for – to describe your duties and responsibilities.
In addition to keeping the recruiter engaged with your resume, another challenge is to use verbs that are unique, appropriate, and best describe the tasks that are specific to your industry.
Check out the list of action verbs we summarized for the following industries and choose the ones that best fit your work experience:
Engineering
Administer
Analyze
Assume
Augment
Built
Calculate
Centralize
Decipher
Devise
Enhance
Engineer
Gauge
Install
Manufacture
Map
Modernize
Overhaul
Peruse
Probe
Process
Recognize
Redefine
Regulate
Reinforce
Repair
Salvage
Transform
Undertake
Utilize
IT and Technology
Adapt
Advance
Alter
Anticipate
Convert
Create
Debug
Deliver
Design
Develop
Document
Extract
Formulate
Identify
Integrate
Launch
Maintain
Maximize
Network
Optimize
Prevent
Program
Repair
Resolve
Specify
Tailor
Test
Troubleshoot
Upgrade
Business and Sales
Accomplish
Address
Attend
Brainstorm
Collaborate
Construct
Coordinate
Delegate
Finalize
Generate
Grow
Initiate
Lead
Meet
Negotiate
Outsource
Partner
Pitch
Plan
Position
Present
Preside
Produce
Represent
Research
Submit
Target
Healthcare and Nursing
Assert
Assess
Assist
Apply
Convey
Display
Ensure
Evaluate
Help
Measure
Monitor
Observe
Perceive
Perform
Proceed
Process
React
Report
Revive
Support
Tend
Transcribe
Update
Watch
Accounting and Finance
Account
Appraise
Arrange
Audit
Balance
Budget
Certify
Credit
Comply
Compute
Review
Estimate
Examine
Explore
Forecast
Investigate
Prepare
Remit
Satisfy
Sign
Slash
Sort
Survey
Transfer
Human Resources and Recruitment
Advise
Allocate
Approve
Assemble
Circulate
Collect
Devise
Direct
Draft
Endorse
Enforce
Furnish
Guide
Hire
Issue
Liaise
Notify
Recommend
Recruit
Select
Send
Science
Accelerate
Align
Apply
Combine
Consolidate
Correct
Define
Direct
Discover
Eliminate
Ensure
Enhance
Gather
Invent
Pilot
Predict
Produce
Reduce
Strengthen
Simplify
Streamline
Translate
Locate
Inquire
Quantify
Education
Adopt
Aid
Conceive
Correct
Counsel
Craft
Critique
Deliberate
Devise
Discuss
Grade
Greet
Harmonize
Instruct
Interpret
Issue
Lecture
Record
Relate
Study
Teach
Management
Align
Amplify
Appoint
Authorize
Chair
Confer
Consolidate
Control
Cultivate
Decrease
Enable
Exchange
Execute
Exercise
Head
Implement
Operate
Incorporate
Institute
Spearhead
Reconcile
Reorganize
Restructure
Revamp
Strategize
Building and Construction
Add
Adhere
Clear
Close
Commission
Complete
Construct
Consult
Deliver
Demolish
Expedite
Permit
Preserve
Run
Refurbish
Rehabilitate
Renovate
Restore
Transport
Transform
Trace
Rectify
Pinpoint
Supervise
Supply
Media and Journalism
Advocate
Announce
Answer
Broadcast
Conceptualize
Contact
Communicate
Compile
Compose
Correspond
Corroborate
Disseminate
Distinguish
Distribute
Divulge
Edit
Express
Field
Inspect
Interview
Listen
Moderate
Question
Publicize
Report
Search
Schedule
Translate
Validate
Law Enforcement and Security
Accompany
Command
Contain
Convince
Defend
Deploy
Describe
Detect
Disclose
Dispatch
Dispose
Enact
Enforce
Escort
Exert
Guard
Inform
Interrogate
Investigate
Mobilize
Participate
Patrol
Police
Protect
Reform
Respond
Solve
Verify
Uphold
How To Use The List Of Best Action Verbs For Your Duties And Responsibilities
While reading through the list of action verbs, you might have been thinking:
"A lot of these verbs are interchangeable. The verbs for 'Business and Sales' can be used for 'Management'. The verbs for 'Engineering' can be used for 'Science'. "
And you're correct! If you're a Salesperson, you can use some of the action verbs listed under "Management".
The groupings of the verbs are based on what creates the strongest associations between the job descriptions and the industry.
Let's take for example the verb "Generate" which can be found under "Business and Sales". The verb "Generate" can also be used for "Accounting and Finance". However, we believe that the verb can create a stronger impact for someone applying for a position in sales.
Here are examples of how "Generate" is used for "Business and Sales" and for "Accounting and Finance":
Business and Sales:"Generate monthly sales quota of US$10,000 by promoting new products in social media, contacting warm leads from buyer's list, and by revisiting long-time customers and encouraging new purchases."
Accounting and Finance:"Generate key financial reports such as projected P/L statement, cash flow, and the disbursement schedule for monthly distribution and review of the company's management team and key decision-makers."
In these examples, "Generate" creates a more impactful job description for a position in Business and Sales especially when it's followed by the figure for sales quota.
For the position in "Accounting and Finance", you can substitute the action verb "Prepare" for "Generate". As a matter of fact, "Prepare" is used more often when describing the task of making financial reports.
However, if you want to use the action verbs in the other categories – feel free to do so. Many of them are synonyms of the other verbs. As long as the context of the job description isn't affected, your job description will remain dynamic.
With that squared out, how can you write more powerful and compelling job descriptions for your duties and responsibilities?
Provide as much detail as possible
In our job description examples above, you'll notice that we included specific details such as "US$10,000 sales quota", "social media", "buyer's list", "long-time customers", "projected P/L statement", "cash flow", and "disbursement schedule".
These are details that are unique to the job you handled. It's very important to keep your job descriptions original and fresh for each employment period.
If you worked as an IT Specialist for a Pharmaceutical company for 2 years and for a Manufacturing company for 1 year, the job descriptions must correspond to the duties and responsibilities that are specific for each employment period.
The last thing a recruiter wants to read is a Work Experience section where the job descriptions seem like they were copied and pasted.
Providing relevant information that's specific to the job will differentiate your work history and make your resume more impressive.
Keep it short and easy to read
When writing your resume, imagine yourself talking to the recruiter or the Hiring Manager. You made it to the interview stage and the Hiring Manager asked to talk about your work experience.
How would you describe your job?
Surely, you want to be understood clearly by the Hiring Manager. Throwing around multisyllabic words and technical jargon might confuse rather than impress. It's the same way with your job descriptions.
Keep them short and easy to read. Think of having a conversation with the recruiter.
Add figures to substantiate your job descriptions
When a recruiter sees numbers, he stops and gives the section a longer read. It might take only a few seconds but those precious ticks might be enough to take you to the interview stage.
Adding figures to your job descriptions gives them more credibility. They quantify and qualify your claims in the work experience section. It will be easier for the recruiter to appreciate your accomplishments when there are numbers to substantiate them.
In the section "Accomplishments", we'll show you how to use the action verbs and numbers in order to strengthen your overall value proposition to the employer.
Soft Skills
Recruiters are looking for 2 types of skills on your resume. Hard skills refer to the abilities you acquired through formal education, on-the-job training, and practical experience.
Soft skills refer to the personality attributes that best describe who you are and more importantly, gauges your approach to work.
Which one is more important? Both are. Hard skills are the abilities that are required to perform the duties and responsibilities of the job.
Soft skills help the recruiter determine if you are an ideal fit for the company – if you can embrace the existing work culture, contribute to productivity, and not be destructive to the organization.
It's easy to summarize your hard skills. Simply choose from the action verbs listed in the previous section, "Duties and Responsibilities". Soft skills are a bit trickier.
You'll have to cite specific instances where your soft skills were called into play. For example, if one of your soft skills is "Leadership", you'll have to cite an episode where you displayed leadership skills.
Validate your soft skills by framing them with the most ideal action verb from our list below.
Arbitrate
Assimilate
Blend
Coalesce
Drive
Orchestrate
Mentor
Embrace
Energize
Enrich
Expedite
Extend
Facilitate
Mediate
Host
Inspire
Impress
Lift
Persuade
Guide
Coach
Motivate
Bolster
Encourage
Patch
Promote
Serve
Show
Stimulate
Support
Volunteer
How To Use The List Of Best Action Verbs To Validate Your Soft Skills
In your Objective Statement and Strengths/Skills sections, you identified "Leadership", "Team Player", and "Results-oriented" as the soft skills that best describe who you are.
It's easy to enumerate your soft skills in your resume but how do you validate them?
In the Work Experience section cite episodes or incidents during your employment that showcase these soft skills.
Let's assume you're applying for a Manager position and you want to prove to the recruiter that you have leadership skills, value teamwork, and are committed to delivering results for the company.
Pick out the best action verbs from the list above and use them to lead off the job descriptions that emphasize a soft skill:
Orchestrate the processes in the marketing campaign that generated a 120% increase in leads.
Motivate the team members to remain productive on a daily basis by conducting regular pre-shift and post-shift meetings to discuss and find solutions to pressing issues.
Expedite the completion of projects without compromising the quality of work by keeping track of progress and providing assistance to team members falling behind the schedule whenever necessary.
Again, you might find action verbs in the other sections that you find to be a better fit to your job descriptions. Go ahead and test them out. The important thing is that the action verb that you use must be relevant to the soft skill you want to highlight.
Accomplishments
Adding your list of accomplishments in your resume gives it more credibility and substance. If there's one sure thing that will draw the eye off the recruiter, it would be numbers – statistics and figures that validate your accomplishments.
Anyone can claim to have done great things at work that contributed to the success of the company. But words are empty unless they are backed up numbers. You have to be 100% about your accomplishments and don't just manufacture information in order to impress the recruiter.
If your series of stated accomplishments are quite impressive and they land you the job interview, you might be asked about them in detail. It's also possible that the Hiring Manager will call your former employers to verify the accomplishments you listed on your resume.
To spice up your accomplishments, lead off with action verbs that set them off smoothly and seamlessly.
Achieve
Adjust
Award
Diversify
Earn
Eclipse
Exceed
Found
Fulfill
Merge
Obtain
Overhaul
Oversaw
Outperform
Pioneer
Procure
Reach
Realize
Revamp
Secure
Solicit
Succeed
Surpass
Sustain
Top
Transcend
Unify
Won
How To Use The List OF Best Action Verbs To Spice Up Your Accomplishments
Make a list of your most notable accomplishments. You don't have to mention all of them in your resume. 2 to 3 accomplishments per employment period should be enough. Then, choose from the list of action verbs to start out your job descriptions.
Here are a few examples:
Adjust the workflow schedule from 6 hours per day per remote worker to 4 hours per day per remote worker; productive hours increased by 33% and costs were reduced by 11%.
Revamp the manpower evaluation process by focusing on ROI per employee instead of sales quota; the end result was an increase in employee productivity by 34% and a reduction in attrition by 60%.
Secured a US$50 million loan from the Bank of America that was used to fund the expansion of retail outlets and subsequently increased annual sales by 240%.
What did you notice about the way we wrote the accomplishments?
Step 1: Identify the action plan that you implemented.
Step 2: Choose a verb from the list.
Step 3: Start the job description with the verb.
Step 4: Give information that's specific to the accomplishment.
Step 5: Conclude by giving actual numbers to substantiate your accomplishments.
Similar to "Duties and Responsibilities" and "Skills" if you come across a verb on the list that feels right to frame your accomplishment, go for it!
Conclusion
Think of action verbs like the frame that holds your artwork or windows together. The frame might look good but if it's not solid or built to handle the weight of the window, it will collapse.
In the same way, if you don't frame or lead off your job descriptions, soft skills, and accomplishments with the right action verbs, they might diminish the impact of your resume to the recruiter.
Take your time in writing your resume. Review the list of best action verbs in this article and see which ones accurately fit your experience and skills.