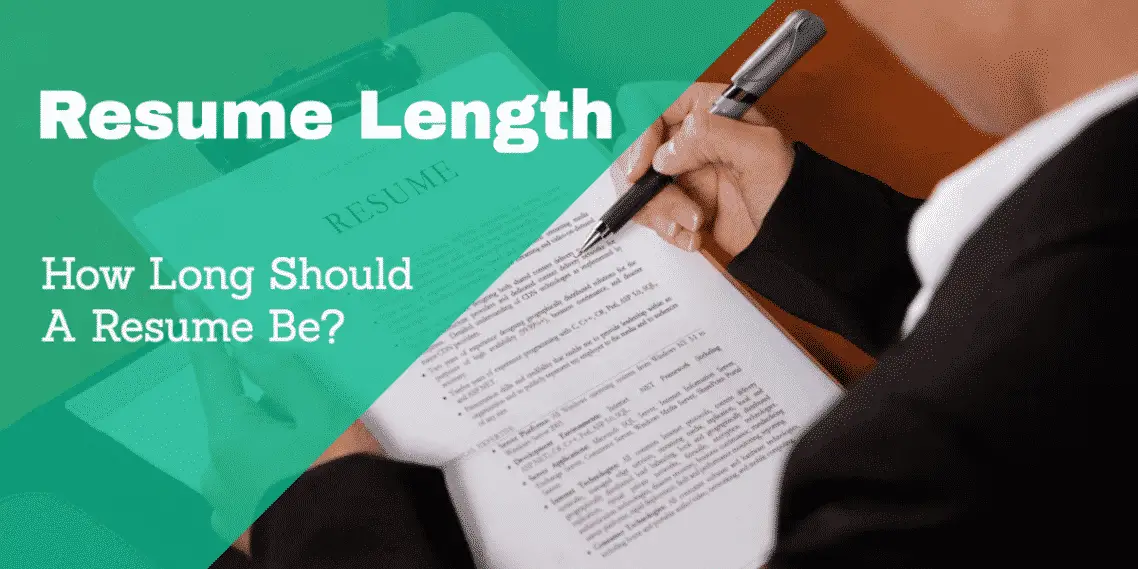 Resume Length – How Long Should A Resume Be?
When writing your resume, content should be of paramount importance. After all, the resume is your career marketing tool. Its purpose is to draw the interest of the recruiting officer and move your application further along the hiring process.
But recruitment officers go through hundreds of resumes every day. They do not have the time to scrutinize each and every resume that lands on their desk. In fact an eye-tracking study conducted by TheLadders showed that recruiters only spend an average of 6 seconds reviewing resumes.
How much content can a recruiter go through in 6 seconds? It must have taken you 6 seconds to get to this section of this chapter. Surely you cannot risk excluding important details from your work experience.
Considering the speed by which recruiters go through resumes and the importance of content, what then is the correct length of a resume?
Two Schools of Thought on Resume Length
1. Keep It Short
A short resume means it should be kept within one page. Those who advocate short resumes reference the eye-tracking study of TheLadders and argue recruiters only focus on the following key areas:
Name
Current Title/Designation
Previous Title/ Company
Previous Position/ Start and End Dates
Current Position/ Start and End Dates
Education
Recruiters scan your resume using keywords. The process has become more efficient with the use of Applicant Tracking Systems (ATS) which are software programs designed to help companies scan for specific keywords.
2. Don't Scrimp on the Details
Trying to write your resume using a process of elimination would be like playing Russian roulette with your career.
For highly-experienced candidates it would be difficult to keep the resume within one page. Keep in mind that when recruiters scan your work experience they look at details such as:
Scope of work and responsibilities
Contributions to company's success
Clients, companies and associates you did business with
Figures and other data that validate contributions
Career growth path within the organization
Even though recruiters use keywords or even tracking software, they want content that can be validated.
Whether recruiters only spend 6 seconds or 30 seconds on your resume, one thing remains very clear: You should not leave out important details.
Take a look at this entry under Work Experience:
"Responsible for managing the sales requirement of the Florida branch. Generated significant returns within a few months."
If you were the recruiter, what information did you gain from reading this statement? Nothing. It does not include key information on the exact location of the branch, figures on actual returns or the number of months it took the candidate to achieve the sales requirement.
This otherwise valuable piece of information was rendered useless simply because the applicant purposely left out key details to accommodate a shorter and condensed resume.
Both schools of thought have valid points. The general consensus is to maintain great content but to keep it concise. The length of your resume should not be an issue as long as it is properly structured and emphasizes the key details of your qualifications.
Guidelines on the Length of Your Resume
Based on everything that has been discussed, it must be clear by now that the length of your resume should never influence its content. Content should always remain the primary driver of your resume.
This is especially true for senior executives who rose through the ranks and whose accomplishments may not be validated by only 1 page of content.
Laszlo Bock, Senior Adviser at Google has a clear cut way of determining the length of your resume: One page for every 10 years of work experience.
According to Bock a short, crisp resume highlights your ability to "synthesize, prioritize and convey the most important information about you."
Bock's rule seems doable for someone with 10 years experience. Certainly another candidate with 20 years experience would need another page.
The best approach would be to follow a set of guidelines when composing your resume. By following these guidelines you will be able to arrive at the appropriate length of your resume without compromising content:
Resume must be easy to read:
Use proper line spacing.
Stick to accepted font styles such as Arial, Calibri or Times New Roman.
Use visible font sizes 12 to 14.
Write in short sentences.
Keep paragraphs short.
Resume must be well-structured:
Personal information must be clearly visible.
Work experience should be arranged starting from most recent employment.
Use bold face when necessary.
Use bullet points to summarize details.
Content is King:
Details must be relevant to job opening.
Highlight all the important skills and abilities; your resume must leave no doubt in the recruiter's mind that you are the one they are looking for.
Summarized details should answer the question, "What can you do for us?"
Do not include experiences that have no relevance or bearing with the job opening.
Perform keyword research and strategically place them in your resume. Keywords should be included in your personal info, work experience and skills section.
Avoid using technical terms; keep language simple and direct to the point.
Tell a story; let the recruiter go behind your lenses and see your story unfold through your own words.
Don't leave out your accomplishments; if you are a frequent resource speaker or guest lecturer at a reputable university, you should include these details in your resume. If you need 5 pages to complete your resume, so be it.
Keep in mind the resume is the only document that stands between you and the job interview. There is always that possibility a recruiter will spend more than 6 seconds on your resume.
You also have no idea of the content of your competitor's resume. The only factor you can control is the content of your own resume.
When writing your resume, quality and quantity should never be mutually exclusive of each other. A well-thought of resume can present high quality content regardless of its length.