Server Bartender Resume Sample 
Alistair Q. McMillan
Address:         4781 Providence Place, Ponchartrain Park, New Orleans, LA.
Phone:            (504) 471 9647
Email:             [email protected]
Current Job:  Server Bartender; The Fattened Pig Bar and Grill; New Orleans, LA.
Objective
Certified Mixologist with over 6 years experience working as Server Bartender in the best restaurants and bars in the French Quarter. Self-proclaimed "Master" of mixing the 50 most popular cocktails of 2017 and the ability to create new drinks for your menu. Great interpersonal skills and knows how to interpret customers' behaviors and moods in order to sustain a fun yet safe drinking and dining environment. My qualifications which are made of equal parts skill, experience and personality will be a great addition to Wyngard Steak and Spirits Bistro.
Skills
Certified Mixologist.

Certified Food Handler.

Certified Food Safety and Customer Service.

Associate Degree – Hotel and Restaurant Management

6+ years experience.

Creative talent in mixing cocktails.

Efficient work/ dining area management.

Wonderful conversationalist.

Attentive to customer needs.

Pleasant and cheerful disposition.
Work Experience
Server Bartender; 2017 to present
The Fattened Pig Bar and Grill; New Orleans, LA.
Duties and Responsibilities
Collaborates with the Senior Bartender in conceptualizing, experimenting and testing new drink concoctions as part of The Fattened Pig's "Drink of the Month" tradition.

Presents updated list of top 50 cocktail drinks to customers and recommends ideal food pairing.

Creates drinks upon order by customers including those that are special requests.

Coordinates with Restaurant Manager and Floor Manager on staff activity during heavy dining hours.

Assists servers when taking customer orders and makes menu recommendations.
Server Bartender; 2015 to 2017
Equus Bar and Restaurant; New Orleans, LA.
Duties and Responsibilities
Relayed drink orders to Senior Bartender and made sure these are served to customers in a prompt manner.

Assisted Senior Bartender in preparing drinks.

Provided customers with drink recommendations; engaged in upselling new drinks on the menu.

Discussed menu items with diners and made recommendations based on their particular tastes and preferences.

Welcomed all diners and guests inside the restaurant.
Cosmetologist; 2012 to 2015
The Po' Boy Dive Bar and Restaurant; New Orleans, LA.
Duties and Responsibilities
Ensured cleanliness of dining and bar areas; attended to proper setup of tables, chairs and utensils.

Provided restaurant guests with menus and oriented them on best selling items, "Catch of the Day", special promotions and new entries.

Recommended the right pairing of food and cocktail or spirits.

Assisted the Lead Bartender on weekends and focused on preparing 10 of the bar's most popular drinks.

Engaged customers in friendly conversation to keep the mood in the bar light, fun and friendly.
Education
Delgado Community College
Associate Degree – Hotel and Restaurant Management
New Orleans, LA
2008 to 2012
High School
Saint Augustine High School
New Orleans, LA
2004 to 2008
Certifications/ Professional License:
Certified Mixologist, 2017.

Certified Food Handler, 2017.

Certified Food Safety and Customer Service, 2017.
Personal information
Status: Single
Date of Birth: September 5, 1991
Hobbies include basketball, running, cooking.
Server Bartender Resume Skills List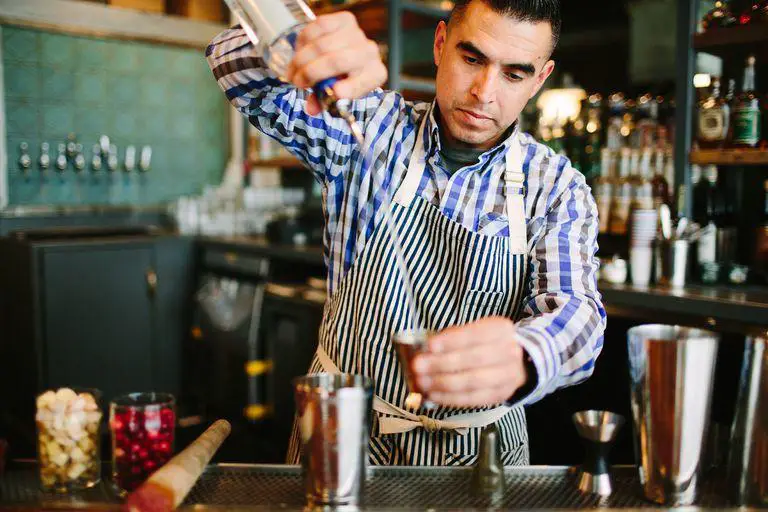 Your Server Bartender skills list must present qualities and abilities that are complementary yet polar opposites of each other. Why?
While your primary responsibility is to attend to the needs of the customer, most of them ignore servers; some won't even look at them, while many gravitate toward bartenders. Yet you must remain professional, courteous and respectful at all times.
In our sample career objective, you can see that there is a clear differentiation of responsibilities between serving and bartending. You will have to seamlessly segue from one area to the next; sort of bridging the needs of the dining area and the bar.
What are the skills needed to become an effective Server Bartender? Read on!
Education
Many server bartenders did not finish college. There are successful server bartenders who only completed high school but through hard work and determination made it big in the industry. But if you have the opportunity to take up a formal 2 to 4 year course in Restaurant Management or related fields, you should go for it.
Certifications
If you want to be hired as a server, you should take up certification courses in food handling, customer service, cleaning and sanitation among others. If you want to be considered for a bartender position, you should be certified in Mixology or the study of making mixed drinks. As a Server Bartender, take the time in getting certified in a combination of these courses.
Friendly and Engaging Personality
When people patronize a restaurant they are paying for the overall experience. It's not just the food. Service plays a big part and often it starts and ends with the server bartenders. Being naturally friendly and engaging will help customers feel more at ease and at home in the restaurant.
Great Interpersonal Skills
Customers hate it when restaurants get their orders wrong. Although it is not always the server bartender's fault, you should always work on becoming a good listener. To be sure the orders are accurate, make it a point to read it back to the customer especially if there are details such as "medium rare", "no butter on the baked potato", "one cube of ice on the scotch" or "splash of fresh lemon juice on the rum cola". The most effective way to limit mistakes is to order take by carrying on a conversation with the customer. This keeps him/her engaged so that when you read back the order, you can be more assured they are listening.
Ability to Manage Stress
"Excuse me, it's been 20 minutes already. Where is our food?". "They haven't served our drinks yet". "The Mojito was served late. It's no longer chilled. Please replace it. "Server bartenders encounter comments like these every day. Add to that the number of new orders coming in. If you want to become a good Server Bartender, you should have the ability to deal with pressure and manage stress.
Server Bartender Resume Objective
In your resume objective, let your personality shine through. Hotels, bars and restaurants love employees with the ideal attributes for the hospitality industry.
Of course, a Server Bartender is a key position in the establishment. Restaurants want to hire people with the right skills and qualifications that will give diners and drinkers top notch experience every time.
We started out our sample resume objective for Server Bartender with a rundown of Alistair's certifications to put the mind of the establishment owner or manager at ease.
Then we stated attributes that will give the person reviewing the resume an idea of who Alistair is, how he looks at his profession and his proposition to the potential employer:
Who –

Self-proclaimed "Master" of mixing drinks with ability to create new cocktails and has great interpersonal skills.

How –

Knows how to interpret customers' behaviours and moods in order to sustain a fun yet safe drinking and fun environment.

What –

My qualifications which are equal parts skill, experience and personality will be a great addition to Wyngard Steak and Spirits Bistro.
Alistair's objective statement is still concise with only 4 sentences but expertly summarizes his best qualifications while highlighting a personality that may be a perfect fit for the employer.
Server Bartender Resume Format
Experience rings loud and clear in the food retail industry. This is why you should use the reverse chronological resume format for a server bartender position. 
What did you notice after reading the job description outlined in our example of a resume for Server Bartender? If you are like most experienced Human Resources managers, you would see career growth.
With the reverse chronological, you start out with the most current employment before moving back. It was quite clear that Alistair's main responsibilities in his latest job showed greater involvement in planning and management.
Four years back, he was still doing primarily basic responsibilities more identified with entry level server bartenders.
Follow our Server Bartender resume template which was presented this way:
Contact Information

Objective Statement

Skills

Work Experience

Education

Certifications

Personal Information
Entry Level Server Bartender Resume
With an entry level Server Bartender resume, you have to focus on your skills and qualifications in order to be noticed and considered by the restaurant-bar owner.
If you don't have experience, you should work to get certified as a Mixologist. The restaurant-bar owner may subject you to a practical bartending test by making you prepare random drinks upon request.
As mentioned in our Server Bartender skills list section, you should also get certified in disciplines associated with dining service.
For someone without experience, you have to focus on your skills and qualifications. The best format would be the functional which would re-arrange the previous template to this arrangement:
Contact Information

Objective Statement

Skills

Certifications

Education

Work Experience

Personal Information
Server Bartender Resume Writing Tips
Restaurants receive a good number of applications. Make sure yours stands out by following our Server Bartender resume writing tips:
Differentiate Your Job Description –

Generally server bartenders do the same type of work from one establishment to the next. But don't be repetitive when composing your job descriptions. Differentiate them by going into details and strive to show growth in your career.

Proofread Your Resume –

Coming across a resume with wrong grammar and misspelled words is like finding ice in your beer or a lemon seed in a vodka tonic. It should never be there! Take the time to check and review your resume for errors before submitting them.
We are sorry that this post was not useful for you!
Let us improve this post!
Tell us how we can improve this post?