Fine Dining Server Resume Sample 
Oliver D. Christianssen
Address:           8928 Great Smokey Avenue, Baton Rouge, LA
Phone:              (225) 745 9632
Email:               [email protected]
Current Job:    Fine Dining Server; Great Gumbo, Baton Rouge, LA
Objective
Customer-oriented food server with an Associate Degree in Restaurant Manager and 2+ years in the restaurant industry seeks to find work as Fine Dining Server for La Beau Monde. I hope to contribute my great customer interaction skills, ability to quickly learn and discuss the menu and provide the best dining experience to your many patrons.  
Skills
Associate Degree in Restaurant Manager.

2+ years experience in the restaurant industry..

Proven capacity to learn the menu plus special offerings.

Experienced in food and wine pairings.

Great understanding on how popular recipes are made.

Excellent communication skills.

Excels in a team environment.
Work Experience
Fine Dining Server, November 2019 to present
Great Gumbo, Baton Rouge, LA
Duties and Responsibilities
Studies menu, restaurant specials and orients new serving staff on which items to choose, how to recommend and how to pair with wine, beer and spirits.

Greets guests and escorts them to their tables.

Answers questions about the menu, special dishes and general inquiries about the restaurant.

Directly responds to customer service issues.

Prepares flambé items such as Bananas Foster and Baked Alaska within visual proximity of the customer.

Prepares and serves Caesar Salad to the customer.

Conducts last minute check on the dining area to make sure everything is prepared according to standard.
Fine Dining Server, January 2017 to October 2019
The French Quarter Wine and Steak House
Duties and Responsibilities
Discussed menu and restaurant specials to customers.

Made recommendations on meat cuts, types of steak preparation and wine pairing.
Sliced, prepared and served Prime Rib to customers.

Served and refilled water and other beverages to customers.

Received customer complaints and addressed it to the Maitre De.

Set silverware, glassware and napkins on restaurant table.

Kept designated restaurant areas clean at all times.
Restaurant Crew, March 2015 to December 2017
The Shrimp Broil Casual Dining Experience, Baton Rouge, LA
Duties and Responsibilities
Worked in the kitchen as food prep, fry man and assistant grill man.

Assigned duties in the bar whenever assistant bartender was not available.

Managed service area with at least 12 other food servers.

Greeted customers and led them to their respective tables.

Provided dine-in customers menus; made recommendations and discussed daily specials.

Refilled water glasses upon request.
Education
Associate Degree- Restaurant Management
Baton Rouge Community College
Baton Rouge, LA
2011 to 2015
High School
Baton Rouge Magnet High School
Baton Rouge, LA
2007 to 2011
Personal information
Status: Single
Date of Birth: October 10, 1996
Hobbies include basketball, fishing, cooking
Fine Dining Server Resume Skills List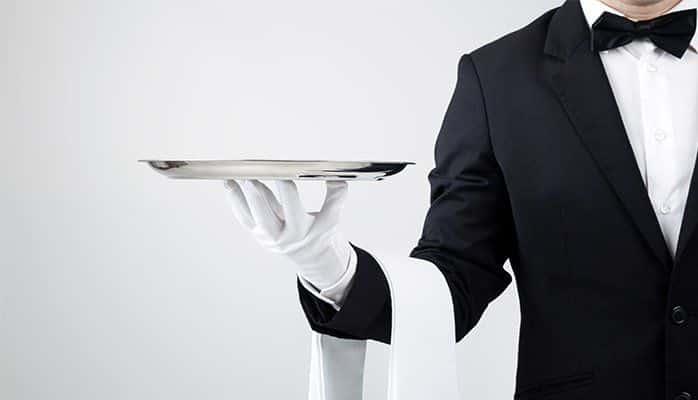 The front of the house or the dining area is where the restaurant makes its money. It's not enough that you know your way around the floor. Your Fine Dining Server skills list must prove to the owner that you have the right attributes to keep the cash register ringing.
Food in a fine dining restaurant is priced at the high end of the industry. When people eat there, it isn't just about the quality of the food but the overall experience.
You can see in our example of a resume for a Fine Dining Server that Oliver has gained an assortment of skills within only 2 years to make him a valuable asset in any restaurant.
Education
Having a bachelor or associate degree in a related course such as Restaurant Management is always a big plus but is not necessary to become a Fine Dining Server. If you completed high school, try to take specialized courses in the service industry that will help you get noticed by the restaurant.
Ability to Multi-Task
In a fine dining restaurant, you may be asked to perform tasks that are not part of the original job description. These include preparing salads and desserts on the table or making cocktails. You have to be ready at all times.
Knowledge on Food Preparation
Sometimes it is not enough to just study the menu. Customers can be inquisitive: "So how did they braise the pork knuckles? Did the chef use dark beer or pale ale?" Customers may take "I don't know" for an answer but it won't reflect well on the restaurant.
Familiar with Food and Wine Pairings
Fine dining servers should know which wine to pair with which salad, cheese or main entrée. They should also be familiar with the year and make of the wine. Fine dining customers are food connoisseurs. They may know what they want but expect servers to suggest better pairings.
Pleasant Disposition
It takes all kinds of customers to make a restaurant successful. There are those who feel that because they paid a ransom for the food, they should be treated like kings. You have to remain courteous and respectful at all times. Answer questions and respond to criticisms in a very professional manner.
Attentive
When people pay a premium on food, they will not expect anything less than excellent customer service. Good fine dining servers are attentive to the needs of their guests. They know exactly when to offer services to make the entire experience memorable.
Finally, you should be a team player. Restaurant managers usually assign servers specific areas to manage. But many customers don't know that even when you say, "I'll be your server for the day". If they are in a hurry, they will call out to anyone on the floor.
As a team player, you have to be able to fill in the gaps especially when business moves at a frenetic pace. It is all about ensuring the integrity of the restaurant.
Fine Dining Server Resume Objective
Restaurant owners receive a good number of resumes everyday. Most of them have the same content, skills and qualifications. Your resume objective statement will have to differentiate yourself from other people that apply for fine dining positions.
Lead off with your strongest point. In our resume sample, we used Oliver's associate degree in Restaurant Management because it is possible not many applicants have formal education in a related field.
The second and most important part of the objective statement: the value proposition or why the restaurant should hire you.
In Oliver's resume, he used his three most definitive attributes to strengthen his value proposition: "Great customer interaction skills, ability to quickly learn and discuss the menu and provide the best dining experience to your many patrons."
Think of the objective statement as your moment to converse the restaurant owner or head chef and tell him or her what you can do for the establishment.
Fine Dining Server Resume Format
In a profession where certifications, licenses and degrees are not required but decided advantages, the only constant variable in your application is your work experience. Thus, even if your work history is sporadic at best, it is advisable to use the reverse chronological resume format.
We arranged the Fine Dining Server resume sample as follows:
Contact Information
Objective Statement
Skills
Work Experience
Education
Personal Information
The reverse chronological format makes it easier for the Hiring Manager or the Head Chef to go through your skills, experience and other qualifications. They are more used to this type of format than the functional or the combination.
Entry Level Fine Dining Server Resume
Experience is definitely a must if you want to work in the restaurant service industry. If you are currently at an entry level stage, and haven't worked at all in the fine dining market, include related experiences in the industry even if it is in fast food or casual dining.
It will be a tough sell but having some experience in restaurant hospitality is better than none. Besides if the fine dining restaurant does hire you it may not be as a server but more of a busboy capacity. This means very limited engagement with customers and more on keeping the place clean and the guests' water glasses filled.
Perhaps you didn't expect to be hired as a busboy but view it as a start. You will be oriented slowly into the waiter/ server category as you gain experience on the floor.
Fine Dining Server Resume Writing Tips
In a job where differentiation may be at a bare minimum, the key to staying ahead of the competition lies in your details.
Look back at the Fine Dining Server objective statement we wrote in the sample resume. We made sure Oliver's scope of responsibilities looked different from one employer to the next.
In his first job, most of his tasks were basic responsibilities expected of food servers. But in a little over a year, you could see in his current employment that he has assumed some management responsibility.
This is another advantage of using the reverse chronological format. The person reading the resume will see one very important quality of a desirable candidate: Growth.
We are sorry that this post was not useful for you!
Let us improve this post!
Tell us how we can improve this post?