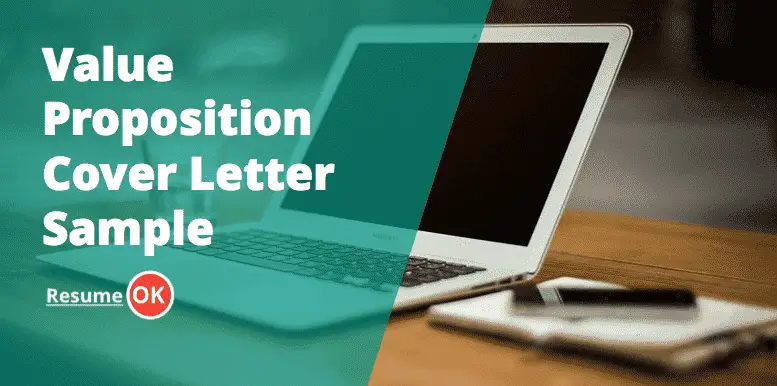 Value Proposition Cover Letter Sample & Template
A Value Proposition also goes by the term "Business Proposal". Companies receive hundreds of business proposals every day. Unless a specific scope of services has been earmarked by the company, most of these proposals will just be kept under file.
Crafting an effective cover letter for a value proposition can be challenging. Your task is to present a letter that can capture attention, pique interest and most importantly, create a need, within a protracted format. Remember this valuable tip: keep your value proposition cover letter short but concise! Managers who are tasked to go through all of the business proposals do not have the patience to read a long, meandering letter. The attention span of a person who comes across a subject matter is just six seconds; less than that of a goldfish! If you can't hook the recipient right away, consider your proposal filed.
The first step is to find out who the letter will be addressed to. You will have to do some sleuthing. The company website is the first place you should look into. If not much information can be inferred from the website, give the company a call.
Receptionists are gate-keepers and can be difficult at times but a little conversation should help you get the information you want.
In the first paragraph state right away who you are; the business and services you offer and the relevance of your proposal. Keep the first paragraph short because most managers would want to go straight into the meat and potatoes of your proposal.
This is where the content of the body becomes valuable. Managers would like to know right away what you have done in your industry and how your proposition could be of value to them. Cite actual cases or experiences where your expertise has helped clients progress in their business. If possible, use your clients as referrals. But clear it with them first. Include statistical data to back up your claims. Just keep in mind that some managers are put off by having too many numbers. It may make your cover letter read like a TV infomercial script.
State with conviction your type of business or service. Then make a quick description of the attachments included with the cover letter.
The structure of the cover letter should be to carry the reader through the content with increased interest. By the time you get to the closing remarks, state that you are hoping the proposal will merit a meeting sometime soon. Indicate that you may give him a call to follow up on the proposal.
Cover Letter for a Value Proposition
Matthew Smith
Address
City, State, Zip Code
Contact Number
E-mail Address
September 1, 2015
Mr. Louis Jordan
Business Development Group
ABC Management Consultants
Address
City, State, Zip Code
Dear Mr. Jordan,
Our company has been in the business of helping other businesses navigate through economic turbulence the last 15 years. As you well know, since the new millennium, the world has undergone events that have completely transformed the global business landscape. From 2015 to 2017, several companies have experienced closures, severe business losses and have continued to do so as more of our largest economies enter into another cycle of recession.
Throughout those years, our clients continued to generate unprecedented returns and long-term sustainable success which have continued to the present day. Among the astonishing numbers include:
Average ROI of 400%

Highest recorded ROI of 10,000% over a seven-year period

Less than 2% employee turnover in the last 10 years
We are proponents of Behavioral Leadership, a management approach which maximizes productivity by optimizing a company's most valuable resource: its people.
I have attached a copy of our portfolio of services and client testimonies.
I would like to book a time for us to discuss our value proposition in detail. I trust you will be interested in what our company has to offer.
Thank you and best regards,
Matthew Smith