Medical Receptionist Resume Sample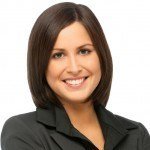 Miranda L. Bradshaw
Address:         570 Orange Avenue, Long Beach, CA
Phone:            (562) 479 2587
Email:             [email protected]
Current Job:  Medical Receptionist, iCare Health Solutions, Long Beach, CA
---
Objective
Medical Receptionist with more than 6 years tenure in the healthcare industry, I am well-versed with HIPAA and have received training in medical billing, documentation and transcription. I am confident that my experience and skill set will greatly benefit McGuire & Keaton Health Specialists LLC. I am very dedicated to my job. My previous employers can attest that I have never been absent or late and report for work even during holidays or weekends if necessary.
---
Skills
Associate Degree holder – Medical Technology

Certified – Medical Billing, Documentation and Transcription.

Attended seminars on HIPAA

Well experienced – 6+ years as Medical Receptionist.

Great interpersonal skills.

Effective organizer
---
Work Experience
Medical Receptionist; 2017 to present
iCare Health Solutions, Long Beach, CA
Duties and Responsibilities
Updates patient clinical records.

Assists in facilitating insurance claims of patients.

Transcribes medical audio files into text files.
Attends to questions patients may have on treatment, health history and required medication.

Schedules patient appointments.
Medical Receptionist; 2013 to 2015
Paramount Healthcare Providers, Inc., Long Beach, CA
Duties and Responsibilities
Meets and greets clients and associates in the office.

Organizes and files all documents of Paramount Healthcare.

Organizes patient appointments for all Paramount physicians.

Updates information in patient records.

Conducts transcription work upon request by physicians.
Medical Receptionist; 2012 to 2013
Bright Smile Dental Clinics, Long Beach, CA
Duties and Responsibilities
Registers new patients and updates records by collecting patient information.

Organizes and maintains all company documents and patient records.

Answers phone inquiries on doctor availability and treatment information.

Attends to patient concerns on insurance claims.

Keeps track of clinic inventory and ensures proper stock levels are maintained.

Maintains cleanliness and organization of reception area.
---
Education
Associate Degree – Medical Technology
Long Beach Community College
Long Beach, CA
2012 to 2013
High School
Polytechnic High School
Long Beach, CA
2016 to 2017
Certifications/ Professional License:
Certified – Medical Billing, Documentation and Transcription; ICD Training Bootcamp, 2016.
---
Personal information
Status: Single
Date of Birth: July 8, 1990
Hobbies include surfing, wakeboarding, cycling.
Senior Front Desk Medical Receptionist Resume Sample
Name: Erick Bradford
Address: Belleville, NJ 07109
Phone: (266) 459-5680
Email: [email protected]
Current job: Senior Front Desk Medical Receptionist at North Shore Medical Center
Objective
I am an enthusiastic, and motivated individual who is dedicated to building a career in the medical and wellness industry. I have a wealth of experience in customer service and administrative skills, including proficiency in Microsoft Office and Adobe Creative Suite. In my spare time, I enjoy volunteering for organizations such as animal shelters and libraries.
As a Senior Front Desk Medical Receptionist, I would demonstrate my strong customer service skills, proficiency in Microsoft Office, and willingness to learn.
Work Experience
Senior Front Desk Medical Receptionist, 2018 – present
Lancaster Rehabilitation Hospital
Duties and Responsibilities:
Answer phones and take messages
Greet and direct visitors
Make appointments
Check in patients
Enroll patients in the practice's health plan
Verify insurance coverage
Collect copayments
Register patients for tests and procedures
Enter data into the computer
Senior Front Desk Medical Receptionist, 2014 – 2018
Candler County Hospital
Duties and Responsibilities:
Answer phone calls, take messages and direct callers to the proper personnel
Greet and schedule appointments for patients
Explain various procedures to patients
Schedule and coordinate tests and treatments
Record vital signs and update patient files
Senior Front Desk Medical Receptionist, 2012 – 2014
North Shore Medical Center
Duties and Responsibilities:
Manage all aspects of the front desk, including check-in, check-out, billing, and answering and directing incoming phone calls
Answer and direct any general questions that patients may have
Maintain patient confidentiality
Invoice patients and insurance companies for services rendered
Schedule appointments according to the patient's request and availability
Attend to emergencies as they arise
Answer and direct incoming phone calls as they come in
Skills
Knowledge of medical terminology and medical procedures
Ability to work independently and as part of a team
Strong organizational and time management skills
Knowledge of Microsoft Word, Excel, Outlook, and PowerPoint
Attention to detail, follow hospital procedures and policies
Interpersonal skills, including teamwork and communication skills with patients and family
Patient Registration Associate Resume Sample
Name: Camden Guerra
Address: Bronx, NY 10451
Phone: (470) 291-5735
Email: [email protected]
Current job: Patient Registration Associate at Memorial Regional Hospital
Objective
I am a hard-working, dependable, and detail-oriented individual who will bring my passion for assisting patients with their registration needs in a professional and conscientious manner that will benefit the company.
I am currently seeking a Patient Registration Associate position in the healthcare field that will allow me to utilize my strong customer service skills to deliver a positive experience to all of my patients. I am able to work quickly, efficiently, and accurately for long periods of time, and have excellent inventory management skills.
Work Experience
Patient Registration Associate, 2018 – present
Kirkbride Center
Duties and Responsibilities:
Receive, verify and enter patient information into database for hospital operations
Verify insurance and payment status for patients
Monitor waiting times for doctors, nurses and other hospital staff members
Maintain patient records and log in a database to maintain accuracy of patient information
Patient Registration Associate, 2014 – 2018
Taylor Regional Hospital
Duties and Responsibilities:
Greet patients, provide information, and answer questions
Request identification information
Obtain patient demographic information
Verify insurance coverage
Register patients for appointments
Update schedule to reflect a patient's appointment status
Check-in patients
Collect payment or verify insurance coverage and billing information
Provide follow up communication with patients as needed
Patient Registration Associate, 2012 – 2014
Memorial Regional Hospital
Duties and Responsibilities:
Greet patients and families upon arrival with a pleasant smile to show customer service
Offer assistance in filling out forms, and answer any questions they may have
Enter patient information into medical records system
Answer phones, take messages, and provide customer service
Assist with scheduling appointments
Skills
Fluent in Spanish
Knowledge of Microsoft Office Suite
Proficient with both PC and Mac
Basic knowledge of Word, Excel, PowerPoint and Outlook
Proficiency with various phone systems
Ability to work in fast-paced environment while maintaining professionalism
Familiarity with various medical terminology and acronyms
Ability to multitask in a high-volume office setting
Demonstrated ability to handle conflict
Front Desk Medical Receptionist Resume Sample
Name: Devan Arias
Address: Shelbyville, TN 37160
Phone: (282) 442-2991
Email: [email protected]
Current job: Front Desk Medical Receptionist at North Ridge Medical Center
Objective
I am a professional with a great work ethic and a strong desire to excel in this field. I am extremely organized and have a passion for customer service. My previous experience has been extensive, which has given me the skills, knowledge and confidence required to handle a variety of tasks with ease. I have excellent communication skills, as well as a pleasant demeanor. I am excited to apply my skills and experience in this position.
Work Experience
Front Desk Medical Receptionist, 2018 – present
Lancaster General Hospital
Duties and Responsibilities:
Answer phone inquiries and provide basic information
Provide customers with information about the office and the medical provider
Take messages and relay them to the appropriate staff member
Provide customer service to clients, patients and visitors in a professional manner
Greet customers and visitors as they arrive at the office
Prepare forms and documents as requested by managers or other staff members
File paperwork and other materials
Front Desk Medical Receiptionist, 2014 – 2018
Kindred Hospital Atlanta
Duties and Responsibilities:
-Provide information and assistance to patients and visitors, including answering questions, addressing complaints, providing directions, and directing calls
Greet patients and visitors warmly and welcome them to the clinic
Answer the telephone, including screening calls and transferring calls appropriately
Provide messages to healthcare providers and prepare responses to written correspondence
Maintain a professional and friendly demeanor with all visitors
Work with insurance companies to process payment for services rendered by the clinic
Front Desk Medical Receptionist, 2012 – 2014
North Ridge Medical Center
Duties and Responsibilities:
Make and distribute copies of medical records
Maintain medical records, files and other related document
Schedule patients' appointments, including follow-ups and cancellations
Accept completed insurance forms and verify coverage
Collect payments, including co-pays, from patients
Collect payments from other medical professionals who provide services to the patient, such as pharmaceutical representatives
Prepare bills for insurance companies
Skills
Excellent customer service skills
Ability to multitask and prioritize workload
Basic computer knowledge
Excellent organizational and time management skills
Strong written and verbal communication skills
Ability to work effectively under pressure
Detail oriented with strong organizational skills
Medical Receptionist Resume Skills List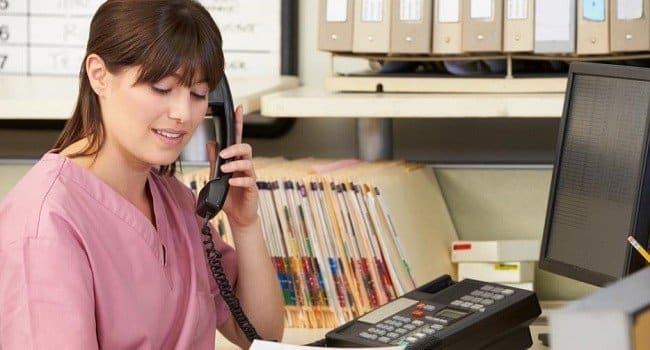 If you want to get the job, you need to put some thought in what you are going to put in your Medical Receptionist skills list. There is more to this job than just meeting and greeting people who enter the clinic.
You are responsible for keeping the office together. Doctors and other healthcare practitioners consider medical receptionists a godsend.
Take a look back at our Medical Receptionist resume sample. We made sure the following skills and qualifications are included in the job description.
Education.

A college or associate degree will be an advantage but not necessary unless specified in the job post. However, a potential employer will prefer a candidate with the highest possible educational attainment.

Certifications/ Licenses.

You don't have to be certified or licensed to become a Medical Receptionist. However certifications in some disciplines will certainly boost your application. These disciplines include basic office administration, medical coding, medical billing, medical transcription and MS Office among others.

Administrative Skills.

Doctors, physicians and those involved in healthcare are great in saving lives and curing illnesses. But they are not so proficient in organization.

You will need to show the ability to perform basic administrative skills such as phone handling, e-mail filtering, calendar management, appointment setting and letter writing.
Special Skills.

Although it is not required, it will enhance your value proposition if you can handle medical billing and coding.

Some need assistance in filing medical claims and having knowledge in Health Insurance Portability and Accountability Act (HIPAA) will certainly benefit the patient and the clinic.
Soft Skills.

Having the right personality attributes will go a long way as a Medical Receptionist. You must enjoy dealing with people; have a positive and pleasant disposition especially in healthcare.

You should be an excellent communicator and have the ability to clearly articulate sought-after information to patients. Finally, you will occasionally face irate patients. Always remain professional and work toward resolving the root cause of the conflict.
Medical Receptionist Resume Objective
Doctors are no-nonsense people. They want to know what you can do for them. Keep that in mind when you write your Medical Receptionist resume objective.
In our example of resume objective for Medical Receptionist, we started out by emphasizing Miranda's tenure. Most clinics and healthcare businesses set the minimum level of experience at 5 years. So any year above that will be a bonus.
Next we disclosed that Miranda is knowledgeable with the provisions of HIPAA. Not all clinics will require this but it remains a relevant and transferable hard skill.
We also mentioned that she is certified in medical billing, documentation and transcription. These are specialized skills which may have been indicated as prerequisites in the job post.
In any objective statement, you must always address the potential employer. The resume objective is your way of introduction. Majority of hiring managers do not like generic- looking applications. Take the time by customizing your resume by addressing the objective statement to the company you are applying to.
Lastly, give the person reading your resume an idea of how you view your job by revealing some of your strongest soft skills or personality attributes.
In Miranda's case, she ends her objective statement by sharing her level of dedication to her job:
"My previous employers can attest that I have never been absent or late and report for work even during holidays or weekends if necessary."
Medical Receptionist Resume Format
As a job that does not require specialized training, certification or licenses, you will be better off using the reverse chronological for your Medical Receptionist resume format.
This is how we structured the sample template for Medical Receptionist resume which looks like this:
Contact Information

Objective Statement

Skills

Work Experience

Education

Certifications

Personal Information
Most hiring managers prefer the reverse chronological format because it is very easy to read and follow. Organize your information by using bullet points to make your resume look cleaner.
Entry Level Medical Receptionist Resume
If this is the first time you are applying for the position of a Medical Receptionist, review your current level of experience:
Determine which of your previous employment has responsibilities that are similar in nature to those of a Medical Receptionist.

Write down these responsibilities and make sure to compose the job description in a way that shows relevance to the work of a Medical Receptionist.
For example, you worked as a Personal Trainer in a gym for 2 years. From the outset, it may seem there is no relevance but if you break down your responsibilities as personal trainer, you will see that they are more related than you think:
Interviewed clients and noted down their health and medical history.
Explained exercise programs that would help them realize their fitness goals.

Assessed overall health and fitness level of client by asking them to perform basic drills.

Received and organized all documents submitted by clients.

Oriented interested gym members and took them on a tour of the facilities.
Keep in mind that almost every job requires skills that are used by medical receptionists. It should not be hard to find similarities.
Medical Receptionist Resume Writing Tips
The best and most effective resume is one that is straight-forward and concise. Here are 3 simple Medical Receptionist resume writing tips that will make yours stand out from the competition:
Keep it Down to One Page –

The general rule is "One page for every 10 years work experience". Not many clinics or hospitals really place extra premium on experience that exceeds 5 years.

There is Beauty in Simplicity –

Doctors and hiring managers will not frame your resume on their wall. There is no need to apply special accents such as fancy font styles, colours or borders. Use standard font styles like Calibri, Helvetica and Arial. You can choose between Left Aligned or Justified for your margins.

Highlight Your Special Skills –

Even if the job post does not mention any technical skills, if you have them go ahead and put it in your resume. You have nothing to lose and everything to gain.
Last but certainly not the least, make sure your resume does not contain errors in grammar or spelling. How can the office entrust you with their administrative responsibilities if you are careless with your own resume?
We are sorry that this post was not useful for you!
Let us improve this post!
Tell us how we can improve this post?