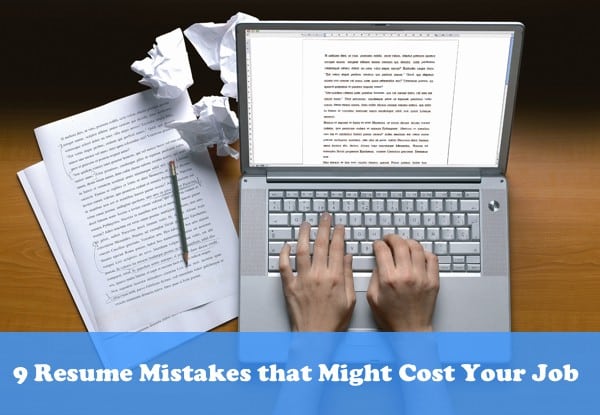 9 Resume Mistakes that Might Cost Your Job
One of the most important steps of the job seeking process is creating a resume. Unfortunately, many people make critical mistakes on their resumes that automatically disqualify them with employers. Thankfully, if you know how to properly draft a resume, you can avoid this. Below are nine common resume mistakes you need to avoid.
1. Grammar and Spelling Errors
Even today, the most common reason resumes are rejected are because of grammar errors and spelling mistakes. Part of this is because people these days rely too much on the spelling and grammar checkers of word processing software. While they are helpful, they will not catch every possible mistake.
You may also be missing mistakes when you read over the document due to your own cognitive bias. This means you read the article as it appears in your head as opposed to how it appears on paper. This is why you should always use a separate proofreader.
2. Not Listing Accomplishments
Another common mistake is only listing previous job duties. While this is important, employers are also looking for accomplishments. For example, if you were the leader in sales at one point in your company or employee of the month, make sure to mention it. Also list some of the successful projects you were part of or anything else significant you contributed to previous employers.
3. Lack of Action Verbs
When you list your accomplishments and experience, make sure to use action verbs. For example, if you worked in a customer service call center, you should describe that experience as "solved problems customers faced when installing operating system software." This is superior to a simple "call center representative" description since it showcases your problem solving skills.
4. Not Being Succinct
While you don't want your resume to be so brief that it's underwhelming, you also need to attempt to be succinct at the same time. Overall, a resume should never exceed two pages in length. In fact, one page is usually preferable.
If you do use one page, make sure to include everything important regarding your skills, experience, accomplishments, contact information, etc. Only use as many words as necessary to convey the information. Recruiters have to read over hundreds of applications. Make it easier for them.
5. The Resume Is a Wall of Text
You should also consider how easy the document is to read. Walls of text are intimidating. They are also difficult to read without strong concentration. Instead, you should make sure to make liberal use of white space on your resume. While you don't want so much white space that it replaces important information, you do need enough to break up the page so it's easier to visually digest.
6. Lack of Specificity
General statements sometimes read well. For one, they present things that may seem correct due to the fact that it's hard to prove general statements wrong. However, if your resume lacks specificity, it is doubtful you'll ever be hired.
For example, many people say they are a "good leader" on their resume. Instead of doing this, you should prove that you are a good leader by describing your past leadership positions at companies, school, charity organizations and so forth. A good resume should show, not tell.
7. The Contact Information Is Incorrect
In addition to grammar and spelling mistakes, job seekers also often make mistakes in the contact information listed. This may be even more important than other kinds of mistakes, because a mistake in a resume's contact information may make it impossible for an employer to contact you. Make sure all the phone numbers, e-mail addresses, etc. listed are free of mistakes and updated to what you are using currently.
8. Using the Same Resume for Every Employer
One method recruiters use to see if a candidate is truly interested in their company and the position being offered is by detecting whether or not the resume submitted references the position being pursued in overt and subtle ways.
Overall, you should not use the same exact resume for every position you apply for. Instead, tailor the resume for that specific job posting. Make sure to mention the position you are seeking at the company specifically. Also list your job experience, accomplishments and skills that are suited to that position. For example, the resume submitted for the position of a data entry clerk should appear very different from a resume for the position of customer service representative.
9. No Firm Objective
Every resume should have an objective. This objective should specifically state the position being pursued at the company. It should also include a short statement about your overall goals with the company for the long term. If you want a long term career at the company, make sure to say so.
Author bio:

Amy Klimek is an experienced HR recruiter and VP of Human Resources for ZipRecruiter, a company that simplifies the hiring process for small to medium size businesses. Prior to that Amy has held similar roles at Rent.com, eBay and US Interactive.
For Amy, corporate culture isn't about dogs and free lunches, it's about empowering employees and creating an enriching environment for people to excel.