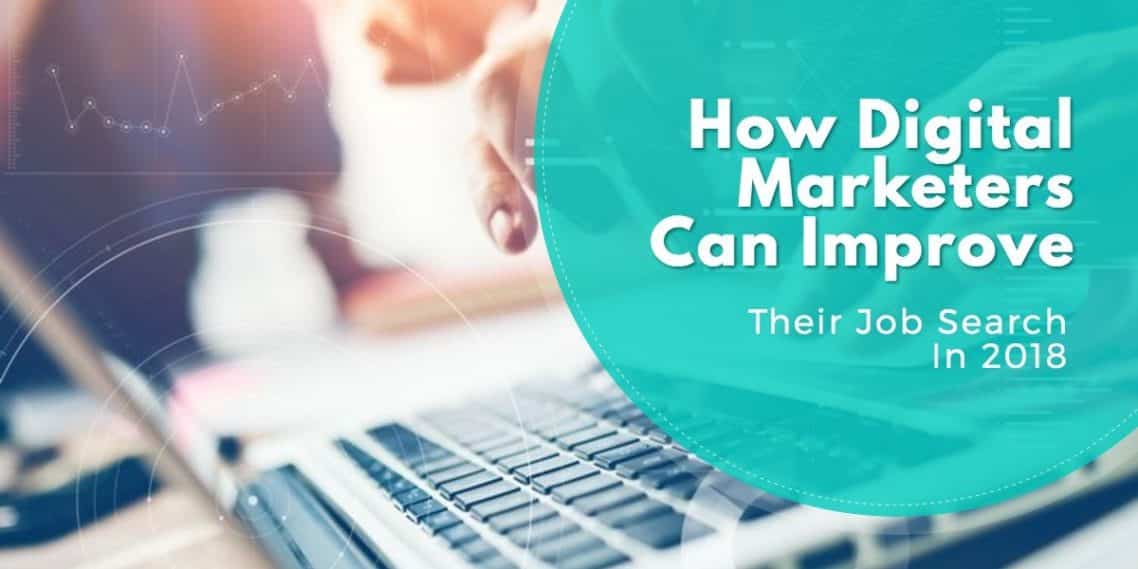 How Digital Marketers Can Improve Their Job Search Process
With the advancements in technology and the need for more creative employees who are open to doing things differently in the digital marketing field, it's not always easy to stand out in the crowd. And while the demand of businesses for digital marketers is not decreasing in 2018 or anytime soon, it's always a good idea to brush up your resume and job search process so you can grab the attention of high-level employers and find the ideal job for you.
Now is the right time to assess your current activities related to finding a job, see where you might be doing something wrong, and try a new approach as the new year begins. Here are some actionable tips to get your creative juices flowing and bring you closer to the ideal position for you as a digital marketer:
1. Turn job-search tasks into a daily routine
Let's be honest, most of the little things that need to be done in order to find a new job don't take more than 15 minutes. But consistency is a must here if you want to see results.
We're talking about activities such as identifying a prospective client, sending an email to one potential employer, researching a company looking for candidates, finding a new platform that has an active job board in your field, updating your pitch, adding a new skill or certificate to your resume, asking friends, acquaintances or colleagues or clients from the past for referrals, etc.
While the big picture does sound intimidating, if you look at each step separately and consider it a 10-minute daily tasks, it's much easier. So change your perspective to also change the results you see from your job search process in 2018.
2. Use the full power of LinkedIn
You're aware of the fact that LinkedIn is the preferred social networking channel for professionals in all fields. But what are you doing to utilize it?
Most people neglect it and don't do anything other than setting up their profiles and accepting or adding new connections every now and then. However, there's much more you could be doing to see and use the full power of the social media platform for business people.
Some ideas include:
Give your profile a makeover. – Use the description to not just mention who you are and what you do, but also give people an idea of your personality and what collaborating with you would feel like.
Be active. – A social media channel is only used right when you connect with new people and engage, grow your network and provide value. On LinkedIn, that can happen by commenting on other people's posts, congratulating friends on different occasions, reaching out to influencers to thank them and mention an article of theirs you enjoyed, and more.
Change your header and photo. – These are two crucial elements and most people rarely update them. But just like the world usually judges a book by its cover, so do social media users treat a profile.
Share all your achievements. – Some compare a LinkedIn profile to a CV. While it's not the same, there are many similarities, but you don't need to keep it short there. So openly state all your skills, add diplomas and certificates, mention every past employer and job position, link to your publications, etc.
3. Focus more on building your personal brand
When you're out there focused on finding work, it's easy to forget about the branding aspect of it all. But it won't go away. In fact, everyone online is a brand these days and you can boost yours to let it increase your chances of success with finding a job.
Start by understanding the role of digital marketing and PR when it comes to creating a strong brand image.
Publishing articles on your own platform (more on that below) is a must these days. Make sure you share them across your social media channels. Take professional pictures, think of a slogan that best represents you, invest more in the design of your website. Update your About, Contact and Portfolio pages. Ask previous clients for testimonials and put these in visible places on your homepage.
In addition, don't be afraid to write guest posts for other sites in the niche, ask to be on somebody's podcast, or create video content talking about your craft. All that becomes part of your brand identity and remains as long as the Internet exists.
4. Position yourself as an expert using your blog
With all the freedom the Web provides, it's a matter of hard work, creativity and desire to stand out even in a crowded niche like Digital Marketing. The hard work aspect is where most people fail. But you can do it differently and let this be the foundation of your new job search process in the new year.
How do you become an authority? You need your own platform and a voice. Both of these are easy to find. Set up a website and start blogging. But don't just be about quantity. It's much more important to make an article, guide, or another piece of content valuable. So take your time even if it means publishing only 2 pieces a month, but making each a few thousand words and adding a ton of data to complement your ideas and tips.
Another factor related to whether or not you're going to be taken seriously by employers is how comfortable you are with your achievements and how you value your work and time.
For instance, it's a common thing to see digital marketers, and people from any field really, to under-price themselves. They don't have the guts to charge what they are worth. Another reason might be that they never checked the standard rates in their field. So it's easier for them to go for the low hourly rates.
But that itself is a negative sign in the eyes of potential clients. It tells people that you aren't confident with your work and that it's not quality enough to deserve a higher rate. Do something about it now so you don't end up in a situation like that. Start by calculating your hourly pay check so you know the standards in your niche. Here's a useful tool that will save you some time.
5. Get creative with networking
Last but not least, do something to become a better networker. Assuming you've overcome your shyness and feel okay with being in public (online or in real-life), join networking events in your area and talk to people, or become a member of mastermind groups and form relationships. You can learn directly from the source, meaning the experts in Digital Marketing. What's more, you can then write about the experience and share pictures or videos on your social media profiles, and thus grab the attention of other attendees or employers interested in the event.
There are many ways to improve your job search process this year and try new techniques while staying true to yourself and having fun at the same time. What will you do first in 2018 to land a better job as a digital marketer?