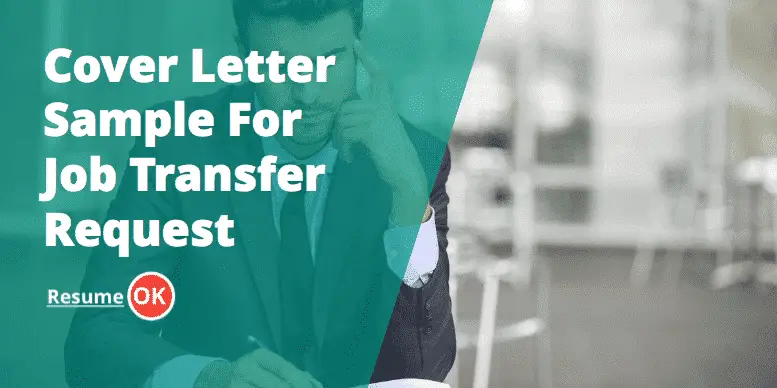 Cover Letter Sample For Job Transfer Request
A request for a job transfer should be approached meticulously and purpose. If not done correctly, it can send the wrong impression to the previous department.
People transfer jobs within the organization for various reasons. Among the reasons are job stability, horizontal movement, diversity, department politics, unproductive business environment, changes in policies and of course, better opportunity.
Regardless of the reason, the intent on the cover letter must be presented in a very professional manner. For some people, a job transfer spells "Relief" and these may carry a negative emotional baggage. If you are one of them, weigh your baggage first and relieve it of enough content before you check it in. It is never a good idea regardless of circumstances to send a highly-charged emotional letter.
In the first paragraph, state how you learned of the job. Not only does this help Human Resources spruce up its metrics but it gives them an idea of personnel who are looking for other opportunities. Indicate your present designation and why you are an ideal candidate for the position.
If there is no job posted by HR, then begin the letter with an inquiry such as "I would like to inquire if there is an opening for the position or if management would consider my request for transfer."
In the body, go into detail on your work history with the company. Include details on the types of training, projects and responsibilities you have done with your current department that are related with the scope of work of the new position. Find a way to tie everything in. Let the HR Manager know that what you are doing now is relevant to what the new job requires.
Keep in mind that HR Managers may not be entirely familiar with the nature of the job. But they do know the nature of evaluating job applications and can tell if you are being truthful or not. Besides, they can always talk to the concerned departments.
Once you have set up your qualifications and relevant experiences, state the reason why you want this job transfer. In every type of cover letter, honesty is always the best policy. Remain truthful throughout the letter; the intent for transfer should not be generic and insincere as a beauty contestant appealing for "World Peace". But as earlier stated moderate your emotions and remain professional throughout your letter.
For your concluding remarks, be courteous, remain optimistic and hopeful.
Cover Letter Sample For Job Transfer Request
Matthew Smith
Address
City, State, Zip Code
Contact Number
E-mail Address
September 1, 2015
Mr. Louis Jordan
Human Resources
ABC Management Consultants
Address
City, State, Zip Code
Dear Mr. Jordan,
I came across the company's job post that was circulated yesterday via e-mail to the various departments. The position was for Senior Trade Moderator and I believe my experience and credentials make me the ideal candidate for the position.
I have been with the company since the year 2015; ABC Management Consultants is my first and only employer. I started out as a Market Research Assistant under the guidance of Dr. Roger Garcia. In 2016, I was promoted to Senior Research Lead upon the recommendation by Dr. Garcia. As Senior Research Lead, I was assigned a team which spearheaded projects funded by private banking corporations. In recognition of my work with the team, I was among the few who were given the opportunity to undergo further training under the auspices of RJS Development Bank. In 2017, I was promoted to Assistant Head of Market Research.
At this point in my career at ABC Management Consultants, I would like to explore new avenues for career growth. I have had the experience of working with the Senior Trade Moderators in the capacity of developing their research papers, guidelines and workbooks. I am confident that my capacity and expertise will greatly benefit the company in this new endeavor.
Thank you very much and I hope my application merits your consideration.
Yours sincerely,
Matthew Smith