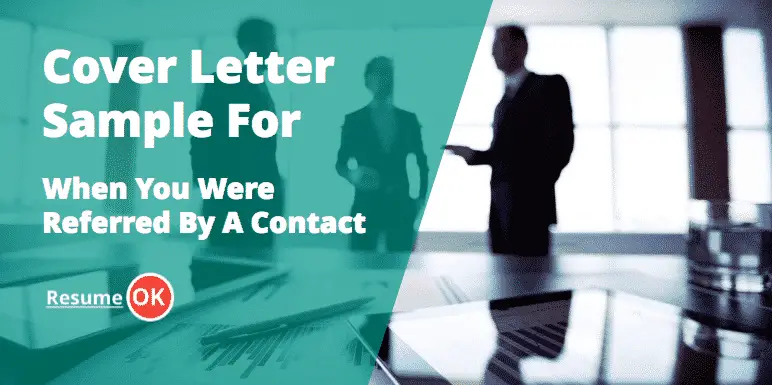 Cover Letter Sample For When You Were Referred By A Contact
A referral can be a powerful tool. If the referral comes from someone with strong ties, establishes immediate recall and more importantly, has influence he can sway the direction to your favor. You have to make sure, however, that your contact IS in good standing with the company you are applying for.
To ascertain this, have an informal discussion with your contact and navigate the conversation to uncover details about the extent of his relationship with the company. Find out how his involvement with the company got started, challenges, the degree of closeness with the main decision-makers and the current state of the business relationship. Additionally, ask around. Talk to a third party with common ties. Remember that just as a good contact will help your application, a bad contact will hinder it.
Before you submit your application, it would help your cause to send an advanced copy of the letter to your contact. He should know what you wrote on the application because chances are the recruiter will give him a call.
In the first paragraph, state your understanding of the company, its reputation and why you want to apply for the job. Indicate the involvement of the contact with your application right away. If the contact is in good standing and the recruiter knows first-hand that your contact referred you for the job, this will strengthen your credibility.
People from Human Resources are wary of referrals because a name can be a powerful influence. A good number of applicants will "name drop" a contact just for the sake of "stirring the pot" and gaining attention even though they have no relationship or affiliation in the first place. So unless you have a solid relationship with the contact and he is on-board being your referrer, this strategy could be risky.
This is why you should state the nature of your relationship or affiliation with the contact right away. Some cover letters with a referral will spend more than one paragraph discussing the connection with the contact. Keep in mind that not all types of connections are considered strong or valid. Family ties are overrated. Working relationships or previous working engagements are better because these directly refer to your ability to perform.
In the body, include your expertise in the specific field. If you have done projects which are related to the scope of work, discuss it in detail. Let the recruiter see that you know what the job is all about and you are prepared to take on the responsibilities head on. HR Managers may not be all that familiar with the nature of the job, but they have the experience to know if this is all just "smoke and mirrors".
Finally, conclude with an optimistic but cautious closing. Even with a strong contact, it is never a good idea to appear over-confident.
Cover Letter When Referred By A Contact
Matthew Smith
Address
City, State, Zip Code
Contact Number
E-mail Address
September 1, 2015
Mr. Louis Jordan
Human Resources
ABC Management Consultants
Address
City, State, Zip Code
Dear Mr. Jordan,
ABC Management Consultants is widely regarded as the best property development firm in the country. Your reputation in providing top notch services in property evaluation and research remains unparalleled in the industry. I was informed by Mr. Thomas Valentine of TGH Finance that your company was looking for candidates for the vacant Head of Market Research position. Thomas and I go back 15 years when TGH Finance was a client of my company. I was tasked to manage the technical analysis reports for Thomas and his team.
Thomas shared THG Finance has had close relations with ABC Management Consultants the last decade. Considering the tenure between your companies I am sure you can take comfort that Thomas would not refer an associate unless he was 100% certain could deliver the expected results.
I have been studying Australia's property sector in the last two years. My interest was spurred by the growing interest of the international community, particularly China, in Australia's property sectors particularly in the cities of Sydney and Melbourne. Based on recent news wire reports ABC Management Consultants has been looking at increasing its exposure in these cities including Brisbane and Parramatta. I have been tracking the increase in property values in these cities because growth has not been congruent with the weakening of the Australian Dollar and other currencies vis-à-vis the United States Dollar. I have done studies that seek to uncover the relationships between currency fluctuations, interest rate movements and consumer behavioral patterns in the property market.
If selected for the Head of Market research position, I am confident my body of research would greatly benefit your organization. I would develop the team that would embark on a more exhaustive but updated research on how the property markets would develop over the next five (5) years.  
Thank you very much for this opportunity and I hope my application merits your consideration.
Yours sincerely,
Matthew Smith