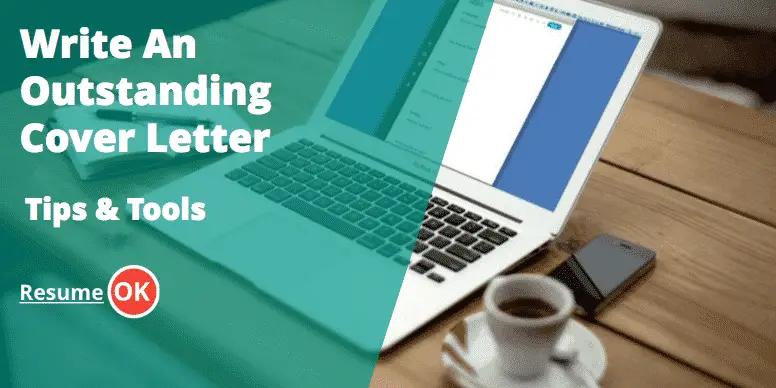 Write An Outstanding Cover Letter – Tips & Tools
Cover letters can make or break an opportunity. You may have the necessary skills to perform a job. However, without an intriguing and intelligent cover letter, your resume may never even be seen.
While there are rules to follow, you also want to make your cover letter stand out. Stay within the guidelines and find a way to make your unique self come through. Think before you begin writing and discover your perfect angle.
The following tips are the best ways to start. Review each to write an outstanding cover letter today:
1. Do not repeat your resume
If your resume states that you worked as a manager, then it will be assumed that you have gone through ample training. Do not use your cover letter to say what your resume already recognizes or details. Instead, use your cover letter as a chance to describe additional attributes that you have in regards to the desired position. Write about things you were unable to specify in a one-page resume and tell them why you would be great for their specific company. Resumes are bullet point facts; a cover letter is your opportunity to give them something more. Don't waste the opportunity to solidify yourself as a solid candidate.
2. Showoff your talents
When you know you have the skills necessary to excel in a professional position, don't be shy. Tell your future employers with confidence about your education and experience. Try to avoid sounding like a sales pitch and focus on your proven skills and knowledge. Do not simply list past employment; also mention promotions or awards, as well as any life experience that was not included in your resume.
3. Share your story
Ask yourself why you want to work for this company. Do you have a personal connection to the product or company mission? Have you always dreamed of a position like this? Use your personal story and background and tell a story. Connect with your audience (the hiring manager or employer) and let them get to know you. Remember to choose your words and focus wisely, and to use professional language at all times.
4. Write a custom, non-generic letter
Most companies want to be able to feel your excitement. Which means, writing a curated letter for each position you apply for is essential. You want to grab their attention. Employers who are hiring receive plenty of resumes and cover letters to sort through. The task can become mundane and repetitive. Give them something to wake them up and to remember you by. Show that you care and don't start your letter like a stock copy.
5. Always keep it simple and sweet
Never go over one page when writing cover letters. However, you want to pay attention to filling up the blank space. You also do not want it to seem like there's hardly anything on the page. Visual presentation is important. Start with an engaging and positive first sentence. And narrow it down to a few points. Keep it between 4-5 paragraphs and summarize without writing an entire life biography.
Technology is providing plenty of tools and resources to help with cover letter writing. Review the following options for assistance:
HemingwayApp.com
This online editor focuses on short and concise writing, like Hemingway himself. The app will highlight issues like hard to read sentences, run-on or repetitive language and overuse of adverbs. The editor also scans writing and gives it a readability score that can be extremely useful for cover letter writing.
When writing cover letters you need to keep it short and sweet. And you want to be sure you communicate profound information in a way that is easily understood. And the Hemingway app is a free and fast way to be sure you have communicated information with correct grammar and spelling, as well as for the appropriate target audience (your future employer).
Ninja Essays writing service
This professional writing service is composed of qualified writers who can help with any of your cover letter needs. Their team of professional and educated writers works on tight deadlines and offer one-on-one guidance and assistance.
This can be a preferred method of proofreading help over automated systems that are unable to understand personality, something imperative for a successful cover letter. When applying for a new position you should use your cover letter to showcase talents not listed on your resume. Make it personal and professional and use real person-to-person assistance.
Plagtracker.com
You never want to submit a cover letter that is not your own. Don't simple copy and paste a generic template cover letter. It's unprofessional and means you are not taking the opportunity to present yourself and your skillset to your possible employer.
You will most likely get your resume tossed aside if it does not stand out from the pile. Be original, be honest and always give your cover letter a scan with Plagtracker.com to be sure your writing is 100% your own. Employers look at hundreds of cover letters and they will notice if it's a generic copy, so don't waste your time or paper on a copy and paste introduction.
6. Start With a Template
Even though you want to write something original, it's a good idea to start with a template. Use these for format and structure guidance. There's nothing wrong with knowing where to write your address and how to properly date and sign accordingly. You still want it to look professional, regardless of content.
7. Boost your self-esteem before you start
Your state of mind and personal reflection of yourself are imperative. They will guide your style and help you portray your attributes in words. This is not always easy and many people are their worst critics. Use this to your advantage and accurately weigh the pros and cons. Focus on the good and jot them down before you begin writing your letter. How you feel while you write will greatly affect the overall tone of your writing.
No matter where you need help, there is a way to get it. Use these tips to begin writing better cover letters. And use what technology offers. Try the listed tools to increase your writing's effectiveness and quality and watch as your professional prospects grow.
Author bio
Julie Petersen is a content marketer and a private language tutor. She is the author of essay writing services reviews on AskPetersen blog, and a regular contributor to such websites as Business.com, Teach.com, Addicted2Success, etc. Contact Julie here.