At ResumeOK, we firmly believe in education and giving back to the community that is just steps away from joining the workforce. As recruiters, we always place a high value on education, and we understand the numerous sacrifices a young student has to take when starting his journey to a successful career.
We want to help college students that have high aspirations and goals for their career by giving away an annual scholarship to one student based on merit.
The scholarship awarded by ResumeOK is available to all college students who are currently admitted to and attending an undergraduate degree program at any American University or College.
Please review the below scholarship details and process information before applying online.
There will only be one winner which will be select from all applications, by the end of 2017. The winner will be announced on our website and also by email.
The winner will receive the scholarship award in approximately 30 days after the deadline.
By participating in ResumeOK Scholarship program, you agree that we might contact you via email or call you. If you are the winner, you agree that we will publish your essay on our site along with your name, college name, and photo.
The winner of the Scholarship program is responsible for payment of any applicable State or Federal income taxes.
Scholarship award to the winner: $1500
Application Deadline: The last submission must be sent by December 20, 2017
How to apply for ResumeOK Scholarship
To apply for our Scholarship, you must write an essay about your experience, on one of the following topics:
Having a job while enrolled in College
The struggles of finding a job when you don't have experience
How college prepares you for joining the workforce
You can choose either of the above topics and write a 1500-3000 words essay.
All submissions must be sent to us by email at [email protected]. You will receive a confirmation after the submission has been received.
In your application, please include the following:
Your full name, address, contact details (phone and email).
Evidence that you are currently a student at any American University or College. By applying to our Scholarship program, you give us consent to confirm your admission by contacting your college or university.
The essay submission as a Word Document, Pages (Mac) or PDF attachment.
If you have any questions, feel free to email us at [email protected] .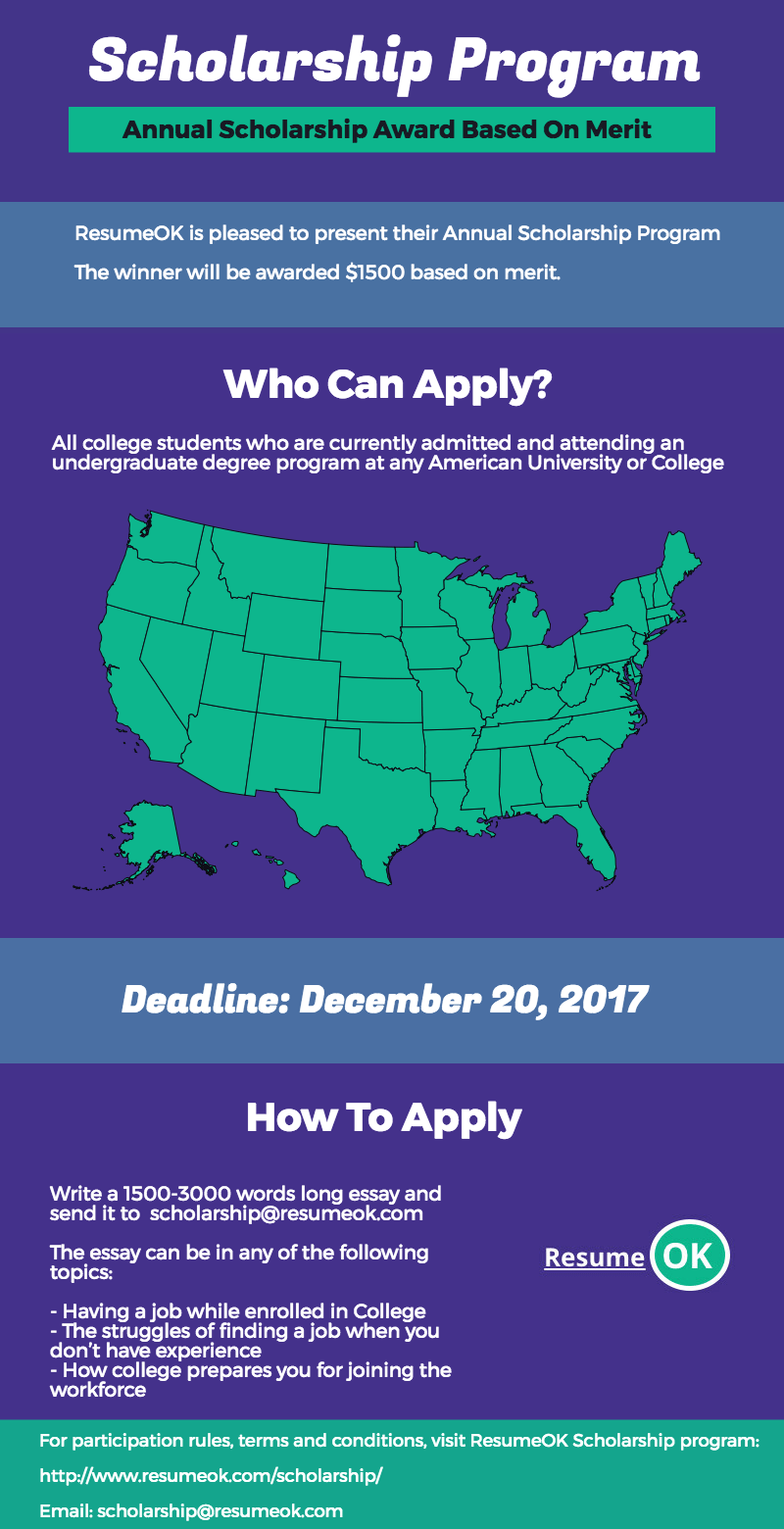 Useful resources to help you with your career:
Last Updated on