How would an office function without clerk? Every day, businesses are looking for highly organized, skilled and competent office clerks who can help manage the day-to-day tasks. If you are thinking of applying as an Office Clerk, your resume should call the attention of the recruiter. Our Office Clerk resume sample is what you need to put your foot inside the door of the company. They say "the devil is in the details". People don't give Office Clerks the recognition they deserve but they get the little things or details done. Cumulatively these little things add up and contribute to the success of the company.
Office Clerk Resume Example
Cynthia Bunchen
Address: 1511 Washington St, Cortlandt Manor, NY 10567
Phone: (914) 788-3688
Email: [email protected]
Current job: Office Clerk at Bronx Realty
---
Objective
To advance my career in office management by seeking employment in one of the largest logistics companies in New York by obtaining supervisory or managerial post in the future.

Highly-organized, team oriented and dedicated Office Clerk with the requisite office management skills, varied experience and training certifications seeks to establish a career with a company that needs back office and front end support o efficiently manage different aspects of operation.
---
Skills
Ability to organize and prioritize tasks effectively
Great interpersonal skills
Ability to work independently
Ability and willingness to work long and extended hours
Ability to work under pressure
Resourcefulness and great administrative skills
Easy to get along with; great at handling different kinds of people
Proficiency in Microsoft Word, Excel, and PowerPoint
A keen eye for details
Openness to new ideas and other people's insights
Flexible and adaptive to new environment, methods, and systems
A team player
Great potential to lead a team
Eager to learn new things
Dedicated and goal-driven
Excellent communication and good writing skills

5+ years experience as Office Clerk

Certified; Records Management

Certified; Software Applications

Certified; Business Writing

Certified; MS Office

Excellent communication skills

Great analytical skills

Highly patient

Great people skills

Pleasing personality

Excellent disposition

Goal – oriented

Highly organized

Punctual
---
Experience
Office Clerk, 2016-present
Bronx Realty, New York, NY
Responsibilities
Prepare meeting agendas, take care of transcribing minutes, and circulate this to the staff
Answer telephone calls and takes messages
Maintain and update office files, inventory, mailing lists, and database systems
Operate office equipment like personal computer, photocopiers, scanners, voice mail systems, and facsimile machines
Collect information needed by the office staff or supervisors
Arrange appointments of the team members
Make travel arrangements for the travel staff
Prepares letters and other correspondences
Do simple bank transactions and basic bookkeeping for the company
Communicate with customers and other offices as the need arises
Proofread and organize records, reports, and documents
Prepare documents such as government and business forms for processing
Direct tasks of lower-level clerks
Arrange for the repair or troubleshoot of office equipment

Organizes all company records including communication and business documents;

Manages all inbound calls;

Sets appointments for key executives;

Responds to questions and inquiries in an effective manner;

Manages calendar of key executives;

Confirms meetings with associates, clients and supplier;

Prepares spreadsheets and Power Point presentations;

Composes business correspondence on a limited capacity;

Conducts business transcription;

Maintains office cleanliness;

Occasionally liaisons with associates, suppliers and clients;

Oversees disbursement schedules for company;

Facilitates authorized payments with company's depository banks;

Maintains records for inventory management purposes.
Assistant Clerk, 2015-2016
John L Scott Realty, Seattle, WA
Responsibilities
Answered telephone calls and takes messages
Prepared meeting agendas, take care of transcribing minutes, and circulate this to the staff
Delivered messages and run errands
Operated office equipment like photocopiers, scanners, voice mail systems, and facsimile machines
Collected information needed by the office staff or supervisors
Arranged appointments of the team members

Organizes all company records including communication and business documents;

Ensures distribution of communiqué to all concerned personnel;

Sets appointments for key executives;

Responds to questions and inquiries in an effective manner;

Manages calendar of key executives;

Confirms meetings with associates, clients and supplier;

Prepares disbursement schedules and ensures availability of financial statements for key executives;

Composes business correspondence on a limited capacity;

Maintains office cleanliness;

Occasionally liaisons with associates, suppliers and clients;
Assistant Clerk, 2017-2015
Remax Realty, Seattle, WA
Assisted office clerks in the travel arrangements for real estate agents
Prepared letters and other correspondences
Communicated with clients regarding contracts
Assisted in preparing documents such as government and business forms for processing
Compiled and submitted reports to the supervisor regarding accomplishments and updates
Did various tasks assigned by the supervisor or manager

Organizes all company records including communication and business documents;

Manages all in-coming calls;

Follows up with customers on reservations and purchases;

Greets and welcomes customers into the store;

Asks customers if they need assistance;

Responds to questions and inquiries on store products in an effective manner;

Conducts floral arrangements;

Works to consistently meet established sales quotas;

Provides customer support or assistance services;

Implements store rules and guidelines;

Maintains store cleanliness;

Maintains sales records for inventory management purposes.
---
Education
St. Joseph's College New York
Marketing, Public Relations and Advertising Certificate
2017 (3 credits only)
Adult Learner Program – Organizational Management (online)
2016
Walter Panas High School, Cortlandt Manor, New York
High School Diploma
1992-1996, 3.6 GPA
---
Courses
Clerical Office Skills
Time Management
Basic Bookkeeping
Leadership Training
Basic Presentation Skills
---
Personal information
Civil Status: Married
Date of Birth: January 16, 1978
Hobbies: cooking and baking, table tennis, decorating, gardening, romance novels, movies, volunteer work
What to Write in an Office Clerk Resume Objective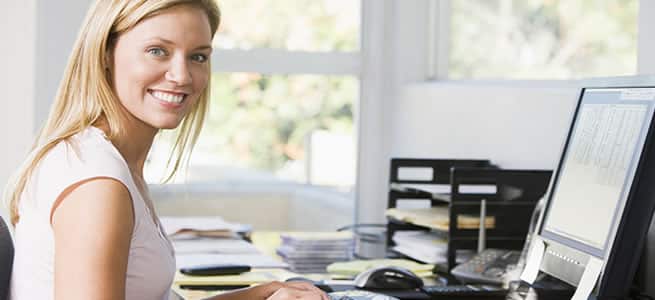 The job of an Office Clerk may appear mechanical, repetitive or by-the-numbers but that is what a company expects. There are procedures and guidelines that must be strictly followed. Office Clerks should not deviate from these procedures as much as possible. If there are questions, the Office Clerk should ask first before implementing changes in procedure.
In your Office Clerk resume objective, you have to highlight the main qualities that make you the standout candidate for the job. The requirements for an Office Clerk are basic and companies will look for keywords that allude to this. As an Office Clerk, the company expects you to keep things organized and running smoothly.
Companies also want to know what kind of person you are. Do you have the profile of a person who can thrive in an office environment and successfully carry out a support role? Give your prospective employer an idea of how you approach your work as an Office Clerk.
You should also state in the Office Clerk resume objective that you understand the roles expected of someone in your position. Companies want to hire candidates for Office Clerks that get what they have to do for the business to succeed.
What to Write in an Office Clerk Resume Skills Section
Although Office Clerks are primarily tasked to oversee back office work or support services, the ideal candidate must possess the requisite skills that make one effective and efficient.
Here are the qualities you should have in your Office Clerk resume skills section:
Educational Attainment

; you are not required to have a College Degree to become an Office Clerk although it would put you several steps ahead of others. An Associate Degree in a related field such as Office Management would be acceptable. If you finished only high school level, you should furnish a copy of your GED score.
Certifications

; if you are serious about becoming an Office Clerk there are certain competencies that you should have. As an Office Clerk, there is a lot of organizational work to be done. You will also spend a good amount of time behind a computer. If you have certifications in office management, software applications or in MS Office these should be included in your resume skills section. Additional training save the company time and money in getting you prepared for the job.
Highly organized

; as mentioned, as an Office Clerk you will be expected to carry out many duties and responsibilities that require good organizational skills. You should be able to produce documents as requested by key executives whenever they ask for it.
Good communication skills

; you will be taking in calls from various people with their own interests with the company. You have to be able to relay the required information clearly and at the same time take down accurate information from the other party.
Meticulous, high attention to detail

; the company will depend on you to attend to the little things or the details. These little things may appear to be inconsequential but you should not take chances. Make sure everything is in order and in accordance to set procedures.
Ability to take instruction

; as an Office Clerk, you will be receiving instruction on a daily basis. Not only should you be able to comprehend and accurately execute the instructions but you should be able to take them.
People often see the branches of a tree but what they fail to realize is that the roots give it sustenance. Office Clerks are like the roots of the tree; not many can see them but they are there and provide key support to everyone in the organization.
What to Write and Not to Write in the Office Clerk Resume Experience Section
Companies are constantly on the lookout for an Office Clerk who can hold down the position for a long time. It is not a job that most people expect to have for the better part of their career. Many look at an Office Clerk job as an entry point in the corporate world.
But the corporate world can be competitive and not many will be called or awarded the next step higher up the ladder. There are many office clerks who maintain their designation because openings for vertical succession are not open.
Moving from one office clerk job to the next is acceptable in the industry. Companies will not take this against you. Recruiters understand the nature of competition.
This is why you should highlight your experiences with different employers as an Office Clerk. It shows your resiliency and dedication to make it big in the corporate world. At the same time, it adds to your value because with every new experience comes new knowledge.
Companies will always believe that any experience is a good experience. Your background should allow you to contribute to the needs of the company.
Highlight your skills and various job responsibilities you had undertaken from your previous employers. Companies expect to see the usual skills on display and this why you should differentiate yours according to industry worked.
There is no need to include experience that has no relation to clerical work or those taken on a personal capacity.
We believe that our Office Clerk resume sample provides you the key elements you need in crafting your own application. Before composing the content, review the suggestions we made in the resume objective, skills and experience sections. These can be stumbling blocks in your quest to land the job as Office Clerk.
Advice for a Office Clerk Job Interview
If you are determined to get the job, devote some time in preparing yourself for the interview. Even your bosses prepare for meetings and presentations. Here are some helpful tips that can help you have greater chances of getting the job.
Be Punctual
Show that you are an organized and dependable person by coming to your interview on time. Do not be late as this leaves a bad impression to your interviewer. Prepare way ahead so that you can avoid delays that may be caused by traffic or some unexpected events.
Dress Up Appropriately
You need not buy an expensive suit. A decent piece of blouse with a collar and matching pants or knee-level skirt would be most fitting. Make sure you are comfortable as this can affect your composure during the meeting. Keep accessories to a minimum. All you need is to be presentable in your interview.
Study the Company's Profile
You would probably be asked why you have chosen to be part of such company. Therefore, make sure that you have done your homework. The more you know about the company, the better you will be able to see where you would most fit in. The interviewer will also sense your great interest in working for the company if you can find an aspect where your service would be most needed.
Be Smart and Honest in Answering Questions
To ensure this, rehearse your responses to the questions. Look for the most frequently asked questions in interviews on the Internet. These may include the following:
How is the ordinary day of an office clerk at your current office look like?
How do you manage work-related pressures?
What is the most challenging task of an office clerk?
Up to what extent are you willing to assist other members of the office staff?
Does your personal circumstances allow you to go on a travel abroad if the need arises?
What is your past record when it comes to sick leave?
Likewise, you may be asked about some personal information particularly those that may have an implication on work schedules and assignments that require you to travel. Just be ready and be truthful in providing information especially if you have limitations or other special circumstances. Explain how you plan to handle these in case you get hired by the company.
Monitor Your Phone Calls
Make sure you keep track of all your phone calls. You would not want to end up missing one—one that will determine the turning point of your career.
Make a Gentle Follow-up
Supposing you are done with both phone and personal interview, feel free to give them a gentle reminder about the progress of your application. But be nice and brief in your inquiry. Avoid being overzealous though as this may pester them, and you might just end up blowing away a big opportunity.
Need to see more resume samples and templates to better understand how to write an Office Clerk resume? Here are more other resume samples for different job positions that you can use as inspiration.
Besides the resumes listed above, we recommend going through the following resume writing and job seeking tips:
Last Updated on