 Carpenter Resume
If you are looking to write a new resume and you need some good carpenter resume examples, you can use the one we have written below. Also, read advice and tips for the job interview. After reading this article you will know:
How to write a professional carpenter resume
What are the most common questions asked during a carpenter job interview
How to approach the carpenter job interview
Carpenter resume example
Michael M. Loren
Address:              133 Clinton St., Hoboken, NJ 07030
Phone:                   (201) 792-0800
Email:                    [email protected]
Current job:       Carpenter at Hable Construction
---
Objective
To secure a position as a carpenter and be part of an exceptional establishment that boasts a great reputation and that prioritizes its commitment to the community.
---
Strengths
Experience in carpentry, woodworking
Residential, commercial, and municipal construction projects
Bilingual (Spanish, English)
Excellent public relations, written and verbal skills
Experience providing workshops, classes
In-depth knowledge of the entire construction process from drafting and material selection to technique and safety
Accuracy in reading blueprints, project plans, and outlines
Working with apprentices
Superb communication and interpersonal skills
Own and have experience with a diverse array of tools and equipment
Excellent organizational and time management skills
Ability to work comfortably on scaffolding, ladders
Can lift more than 80 pounds
Ability to work independently or in a team environment
Committed to cultivating relationships with clients
Excellent driving and attendance record
 Flexible and adaptable to change
Ability to communicate effectively and coordinate between clients, architects, and subcontractors
Familiar with workplace safety policies and procedures
---
Experience
Lead Construction Carpenter, 2008-present
Hable Construction, Brooklyn, NY 
Responsibilities:
Trim work, hang doors, tiling, demolition, plastering, framing
Work in all areas of construction projects
Ceiling, door, and window installation
Work from blueprints, drawings, sketches and design specifications
Choose materials in line with safety priorities and cost control
On-site supervision of subcontractors
Demolition work
Construction Carpenter, 2005-2008
Park Avenue Building and Roofing LLC, Brooklyn, NY
Responsibilities:
Constructing, repairing, installing and restoring doors, windows, walls, stairs, cabinets, roofs, shelves and floors
Handle all tasks in all aspects of construction projects
Read blueprints
Commercial and residential carpentry projects
Timber construction using cypress
Steel stud framing, hanging and finishing drywall
Construction Carpenter, 1999-2005
Skyline Industries LLC, Brooklyn, NY 
Responsibilities:
Follow design specifications and read plan blueprints
Operate tools like lather, drills, sanders, and planers
Time manage in order to adhere to construction schedule
Doors, cabinets, shelves, stairways, counters closets and wall panels
Commercial and industrial carpentry
Interior and exterior trim and siding installations
---
Education
James Madison High School, Brooklyn, NY
High School Diploma
1990-1994, 3.8 GPA
---
Courses
Financial Accounting
Managerial Accounting
Interpersonal Communication
Introduction to Spreadsheets
Introduction to Databases
---
Personal information
Civil Status: Married, two children
Date of Birth: 11/12/1976
Hobbies: soccer and cycling
Advice for Your Carpenter Job Interview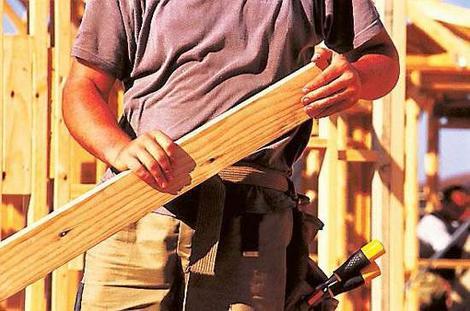 After you have searched through different carpenter resume examples, it is time to proceed on to the next stage of finding your ideal job. Here are some tricks on how you can ensure a promising outcome from your interview:
Shine up your Carpenter resume 
Update and proofread your CV to make sure it is free of any unsightly errors so that when you head to your interview, you can have even a little bit of self-assurance that you are going to make it. Double check all your information to make sure that the main points are there — your strengths and qualifications, work history, experiences, and education. Refrain from making too long, or including any irrelevant information. Remember, your CV is where they will base their decision on whether to call you for an interview or not, so make the best of it.  If you are not sure how to structure your resume, there are some carpenter resume templates on this site you can use.
Obtain Some Basic Knowledge about the Company 
It pays to do a little background research on the company that you wish to be working for. This will give the interviewer an idea of how much initiative you have and how reliable you are. Wowing your interviewer with smart, spontaneous, and accurate answers about your prospective company will give you a significant advantage over the other applicants.
Invite Someone You Know to do a Mock Interview with You
Convince a friend or a family member to engage in a mock interview session with you. That way, you can seek for their advice on how you can improve on the way you answer the questions. Do not show up at the interview room if you have not rehearsed the answers to the following questions:
Do you feel comfortable with heights and working on scaffolding?
What aspects of carpentry do you feel most confident about? What kind of jobs make you feel less confident?
What do you consider to be the main tasks of a construction carpenter?
What do you consider to be your strengths? Your weaknesses?
Where do you see yourself in ten years?
Can you work with little or no supervision, but still see yourself as part of a team?
With what kinds of tools and machinery do you have most experience and confidence with?
What does safety mean to you?
How do you strike the balance among safety, quality control, and cost control?
When you sense that you are nearing the end of the interview, politely ask the interviewer if you could be given a chance to ask your own set of questions. The questions that you can ask could be anywhere among these ones listed below.
What sort of professional training, seminars or courses does the company provide to help me grow as a carpenter?
How many carpenters will I be working with on the same project?
How large is the average project?
What do you as an employer consider to be the most important, key ability for success in this job?
What plans does the company have for growth in the next five years?
What are your expectations for this position? What results do you hope to see fulfilled?
Wait for a Week or Two then Follow Up
Do not fret if your employer will not call you right away after the interview. Keep in mind the volume of applicants that they could be handling. Give it a week or two before you can call them to ask about your status.
Need to see more resume samples and templates to better understand how to write a Carpenter resume? Here are more other resume examples for different job positions that you can use as inspiration.
Construction & Property Resume Examples
Engineering & Manufacturing Resume Examples
Maintenance & Repairing Resume Examples
Besides the resumes listed above, we recommend going through the following resume writing and job seeking tips: